Adding interest to the 17th-century gardens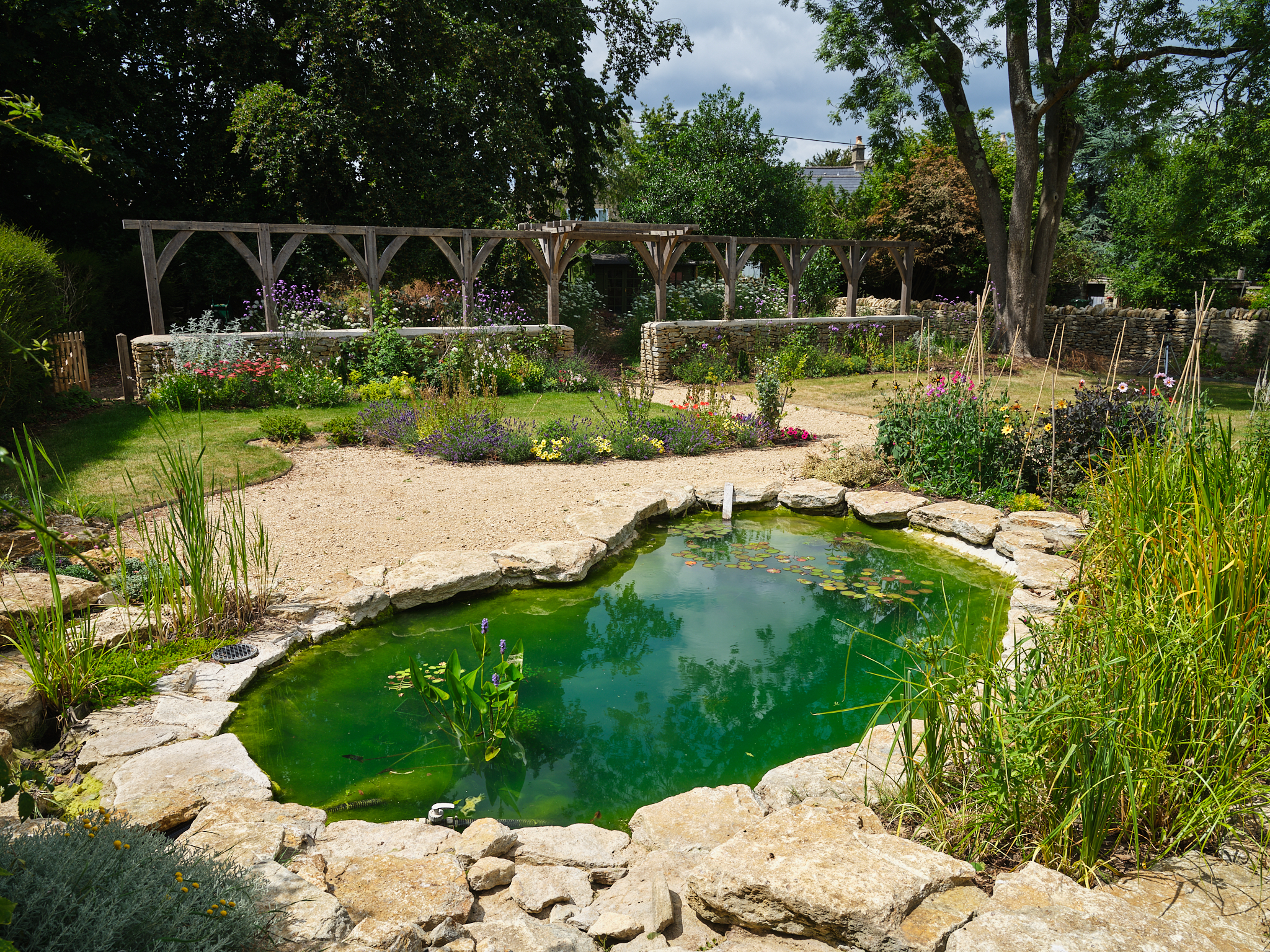 Bringing the 17th Century gardens to life
Manor Farm sits in a small village close to the picturesque town of Bradford On Avon.
The Manor House had been newly acquired and alongside refurbishments and updates to this stunning 17th-century House, Selby was commissioned to design and build a new landscape scheme for the gardens.
The brief from our client included a natural swimming pond, a training structure for roses and an area of wildflower meadow.
Designer:
Sam Selby / Selby Landscapes
Project Cost:
£80,000 – £120,000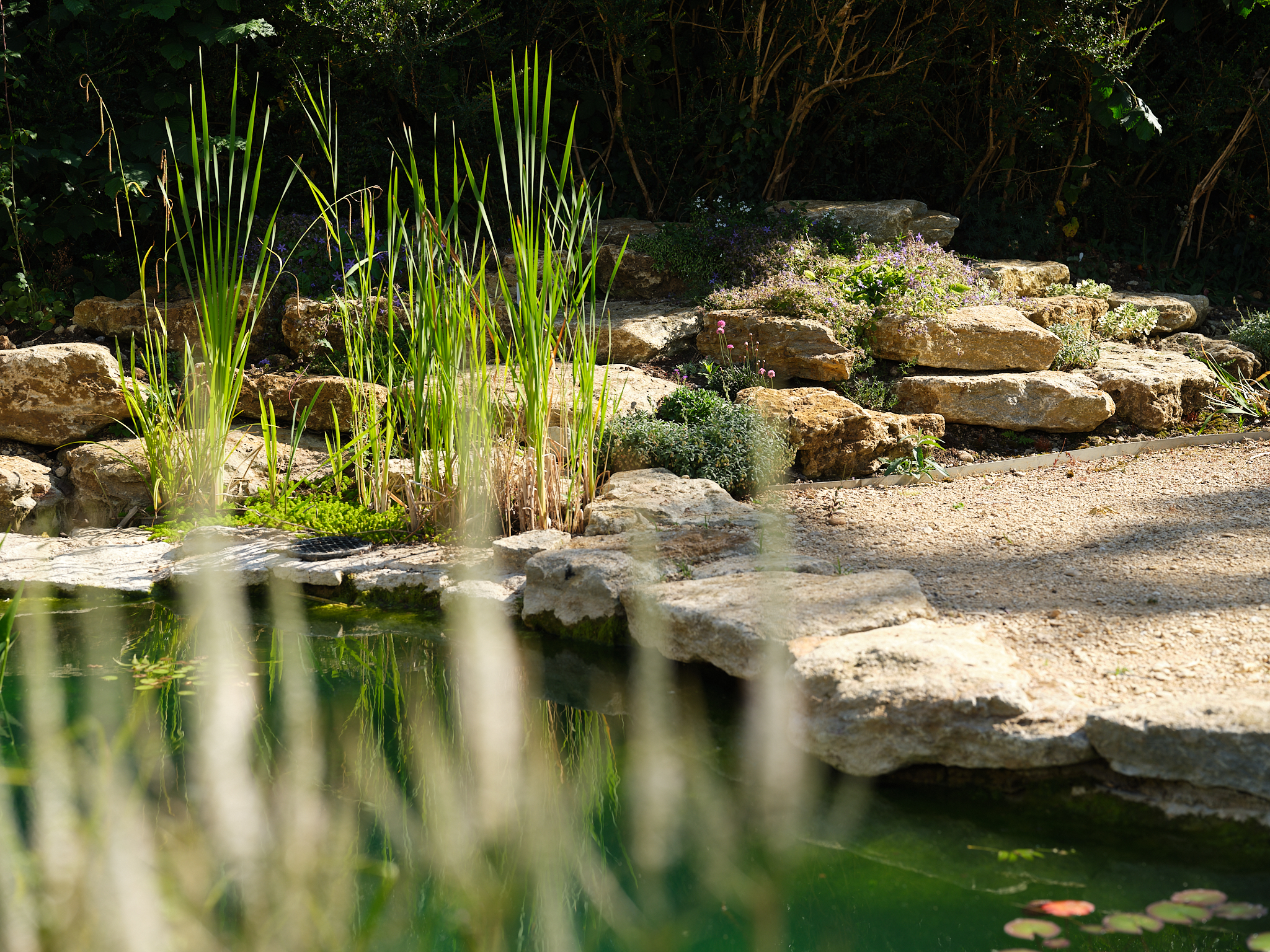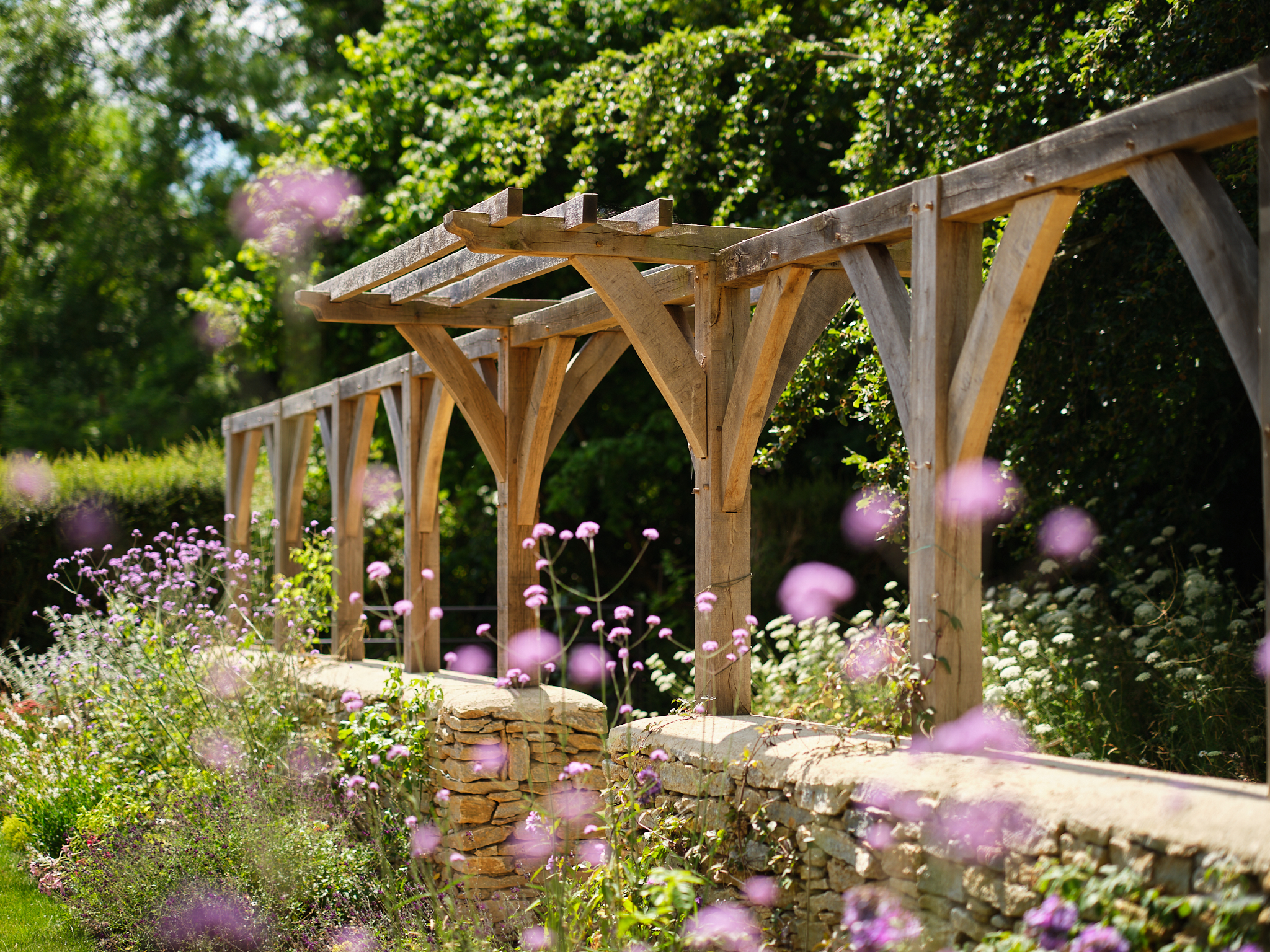 The scope of the natural swimming pond was reduced over the course of several design amends due to budget and the realisation that the usage versus its footprint was probably too much for the garden. We decided on a smaller, naturally shaped pond which would encourage wildlife and planting but large enough for grandchildren on a hot summer's day.
The showstopper of the garden is the vast oak pergola that sits on top of a dry stone effect wall built from a forest marble stone known for its durability and beautiful colour tones.
The stone was picked to compliment the stonework on the house.
Over the coming years, we can expect to see this beautiful piece of craftsmanship covered in large displays of scented roses.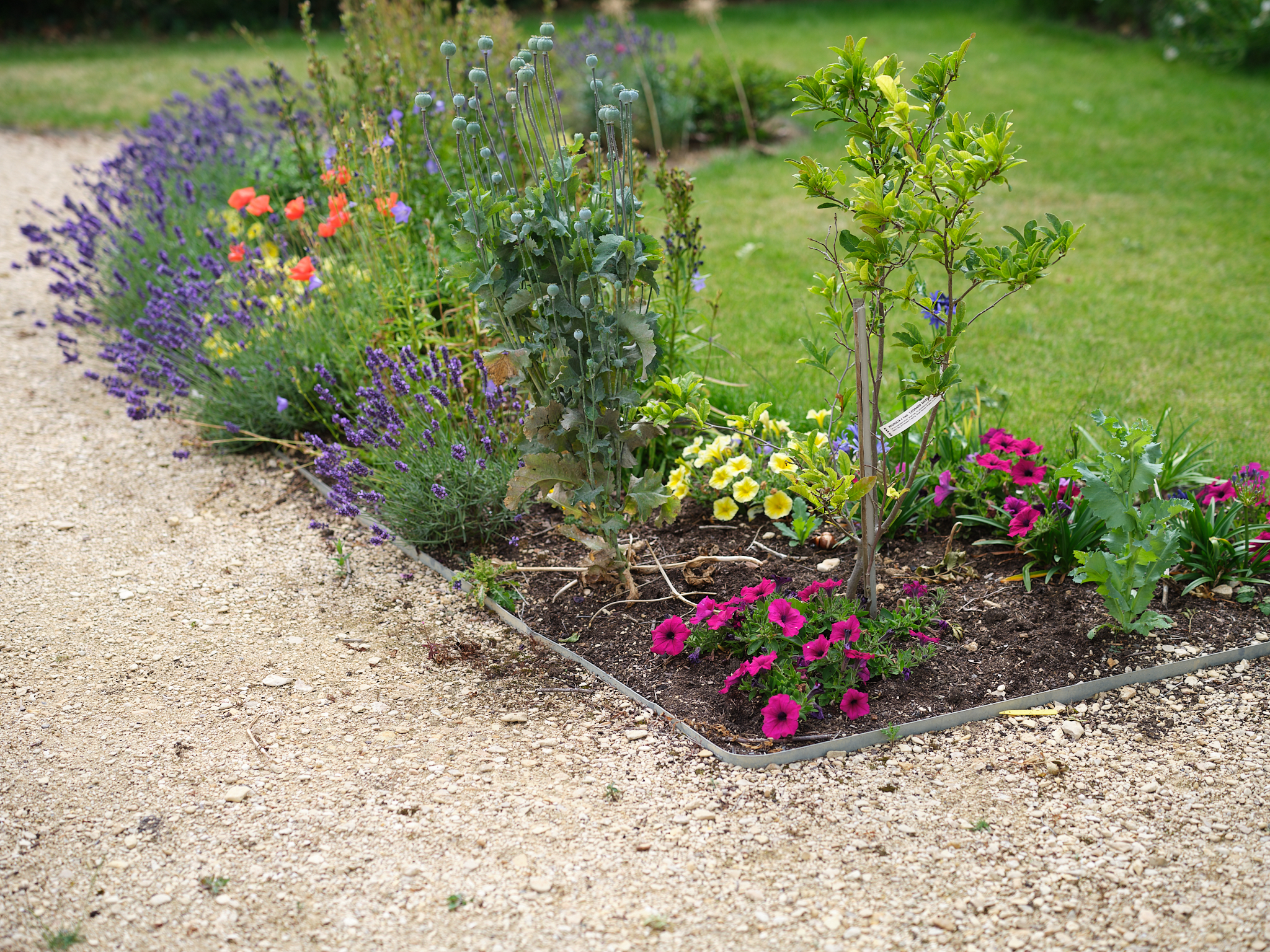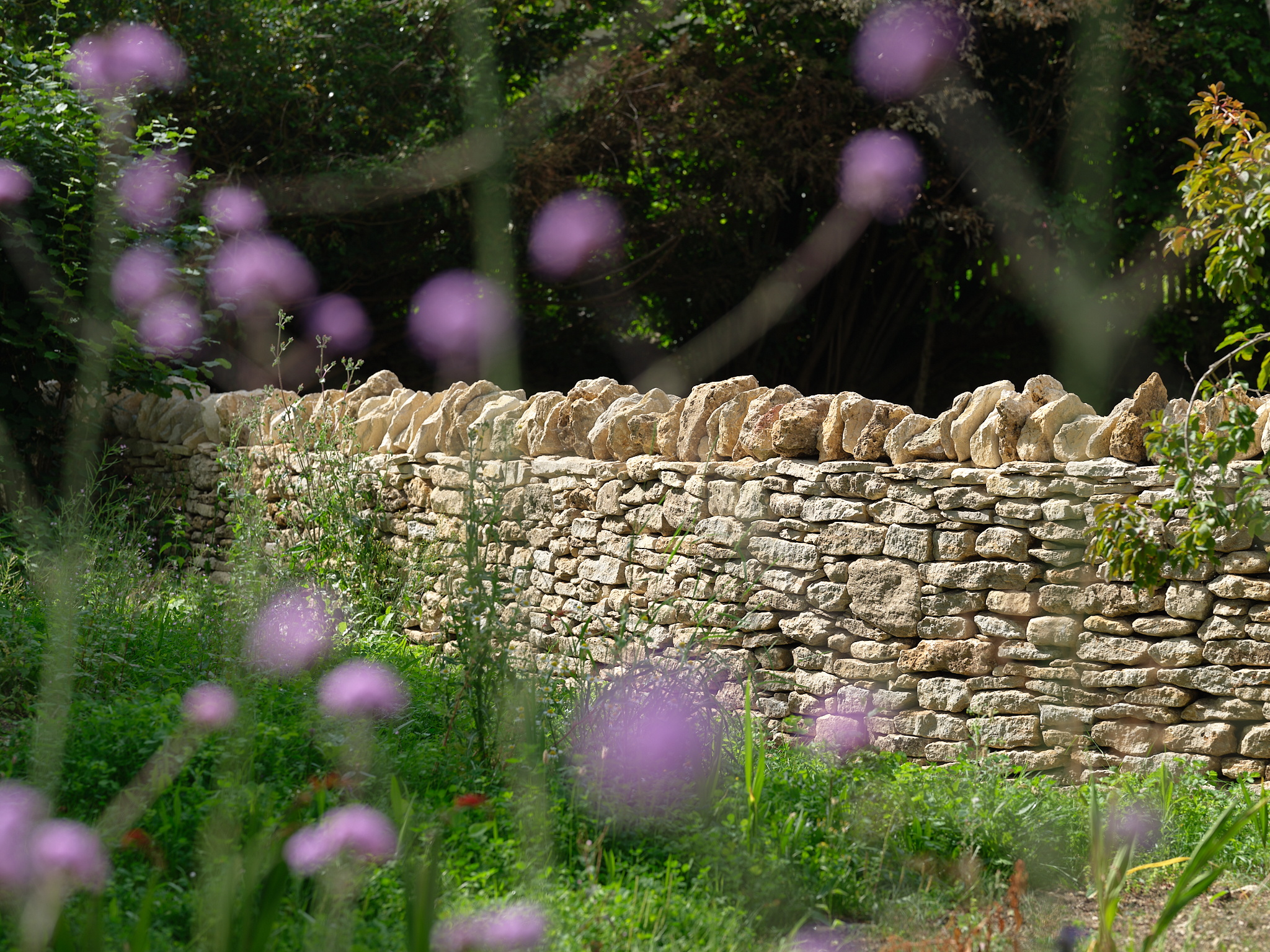 Minimal waste was removed from the excavations in the garden to reduce landfill costs and was instead used to create berms at the back of the garden which was then sown with wildflowers.
This back end of the garden takes the space from a more formal layout to a woodland feel complimented by mulched paths leading up to a home gym.
The boundary wall was in a serious case of disrepair and was removed and rebuilt by expert drystone waller Simon Knops using a Purbeck walling stone.
The garden continues to flourish and we look forward to seeing this Selby garden mature in years  to come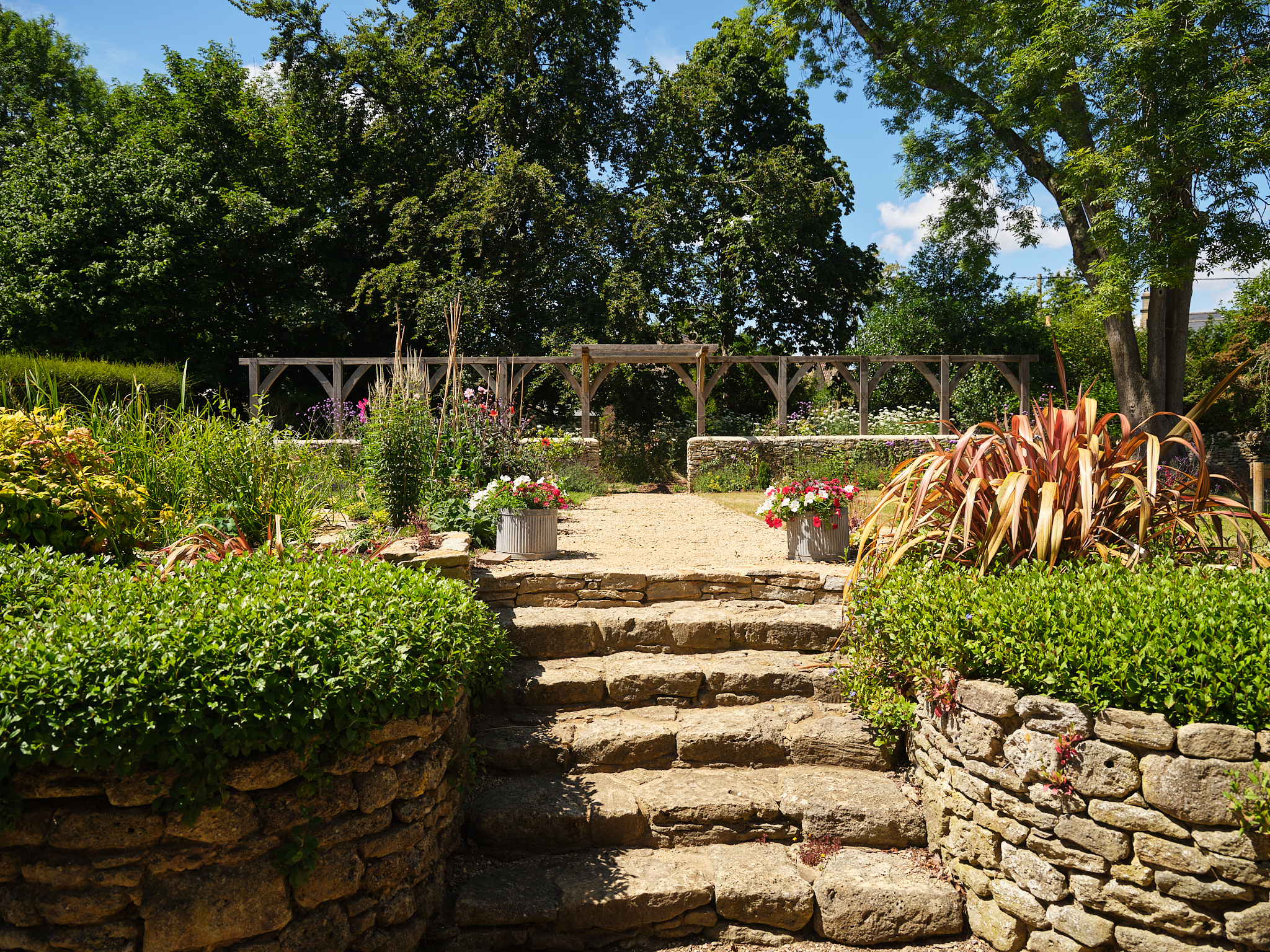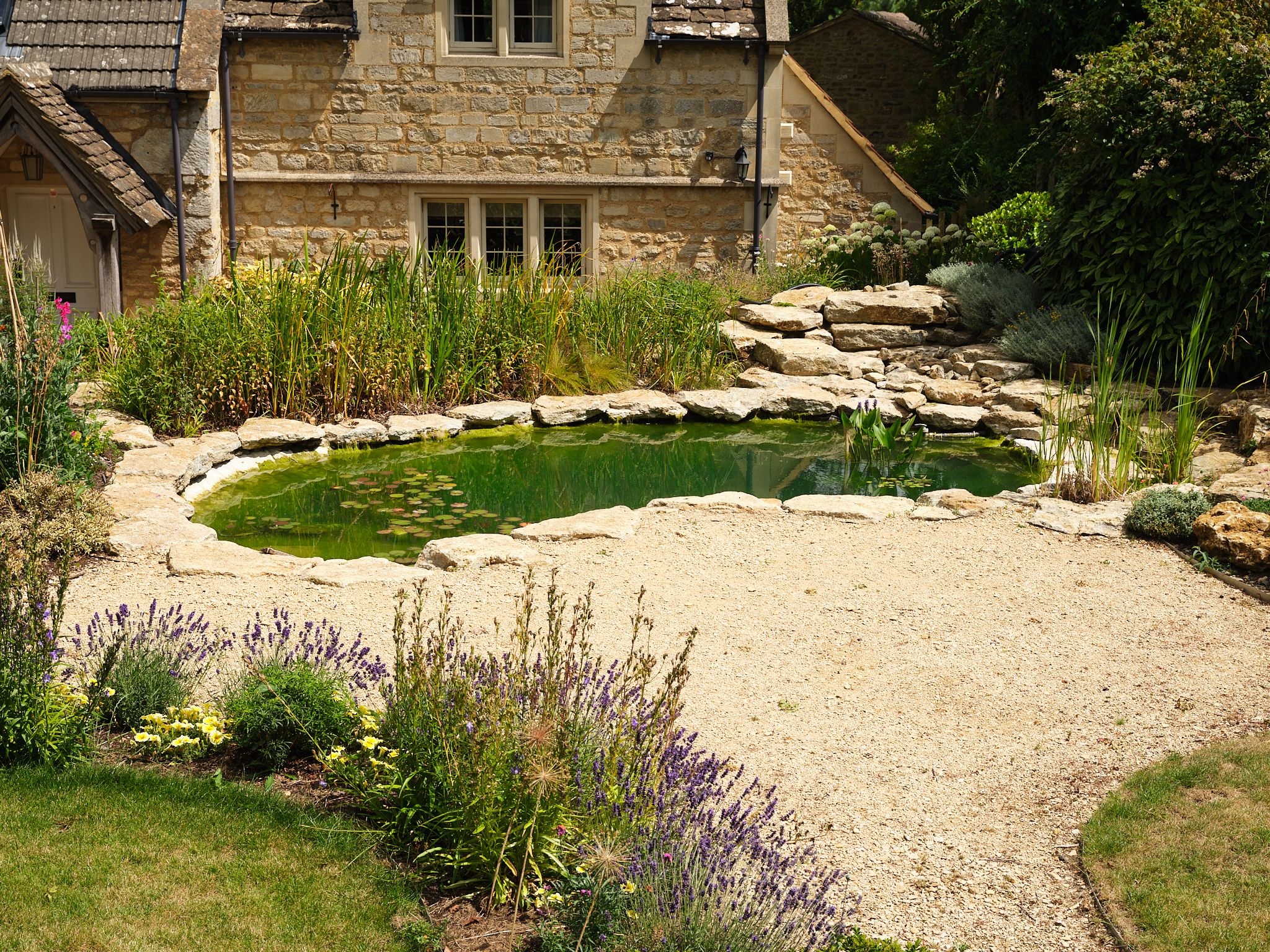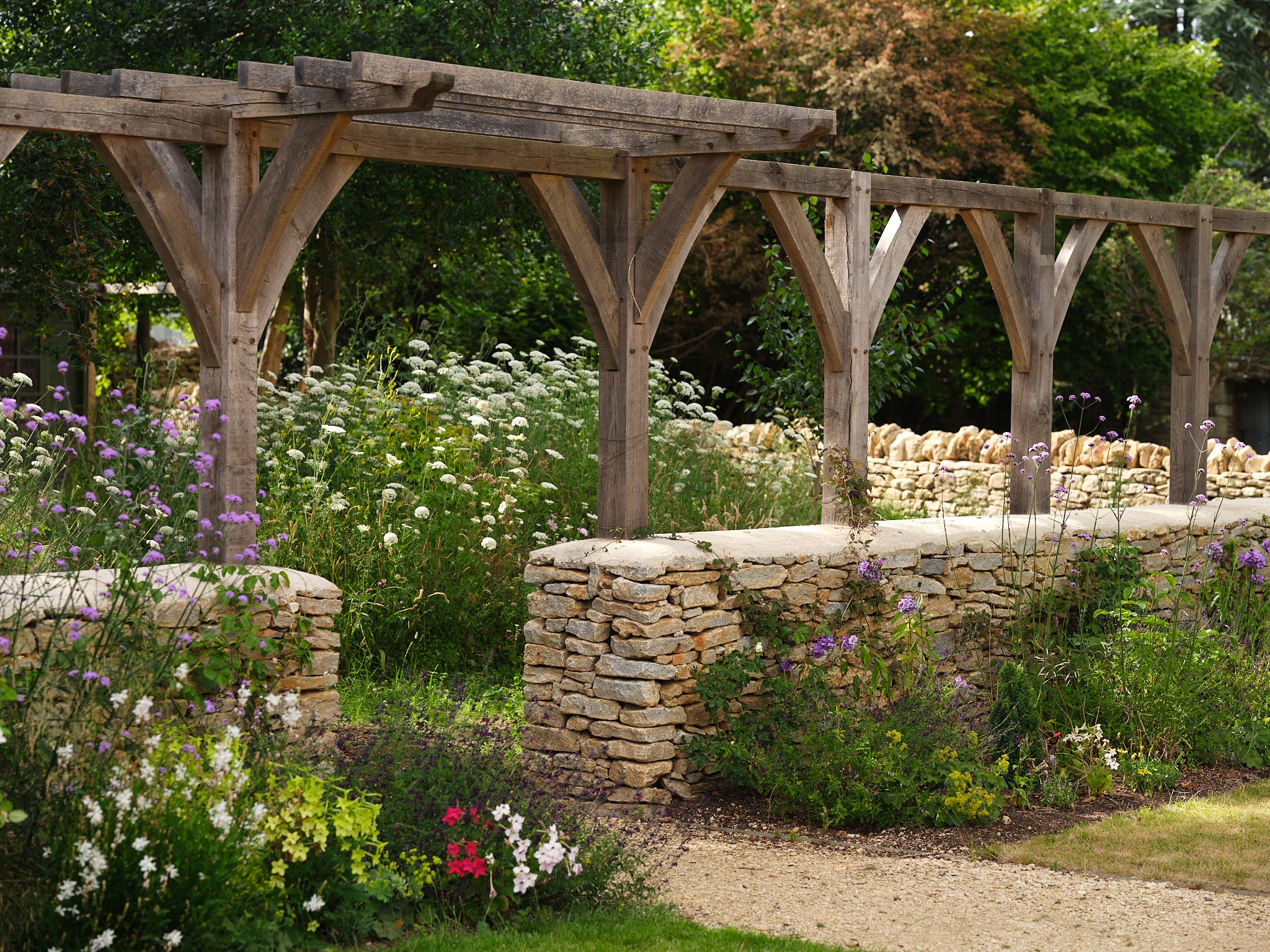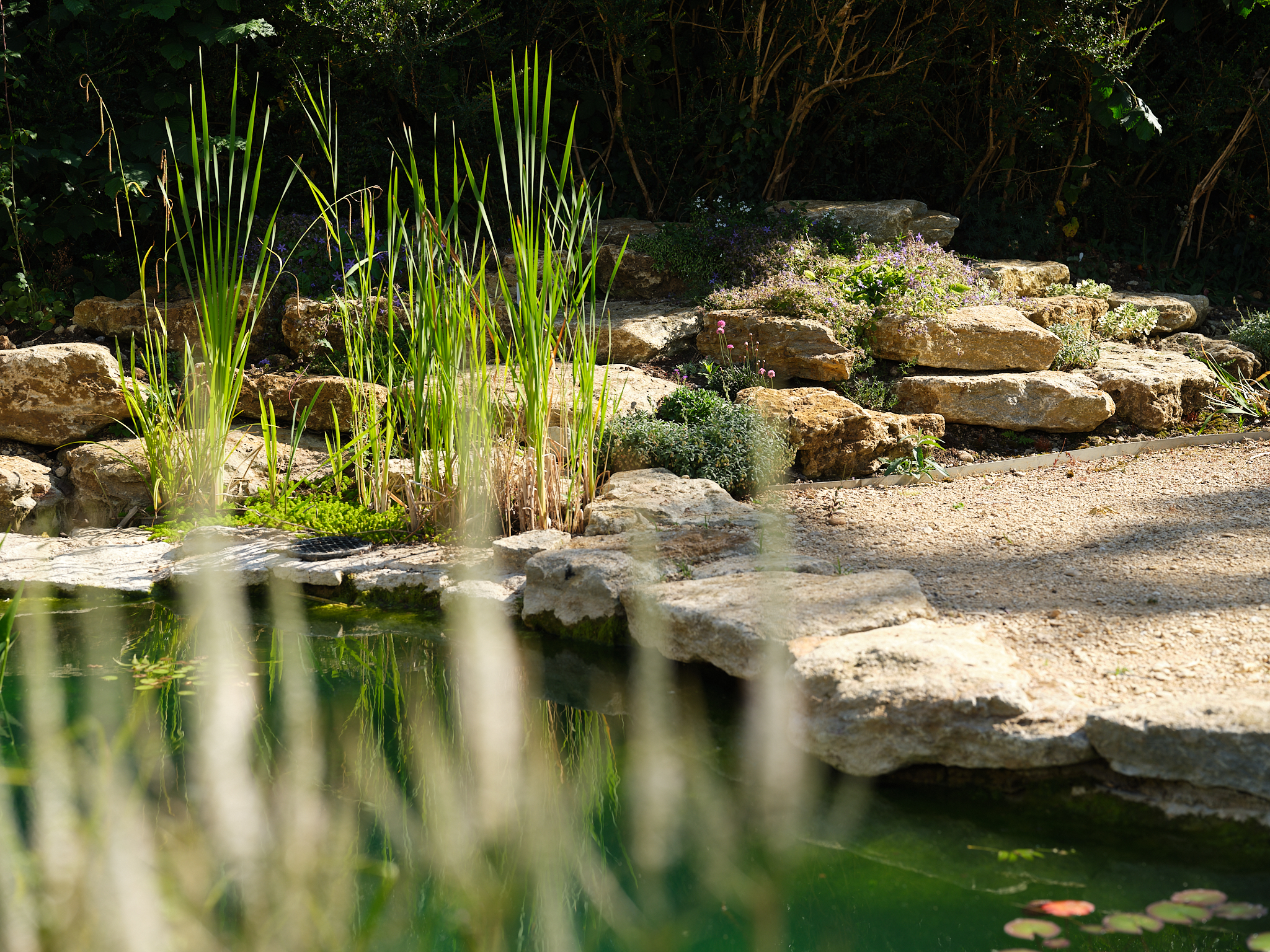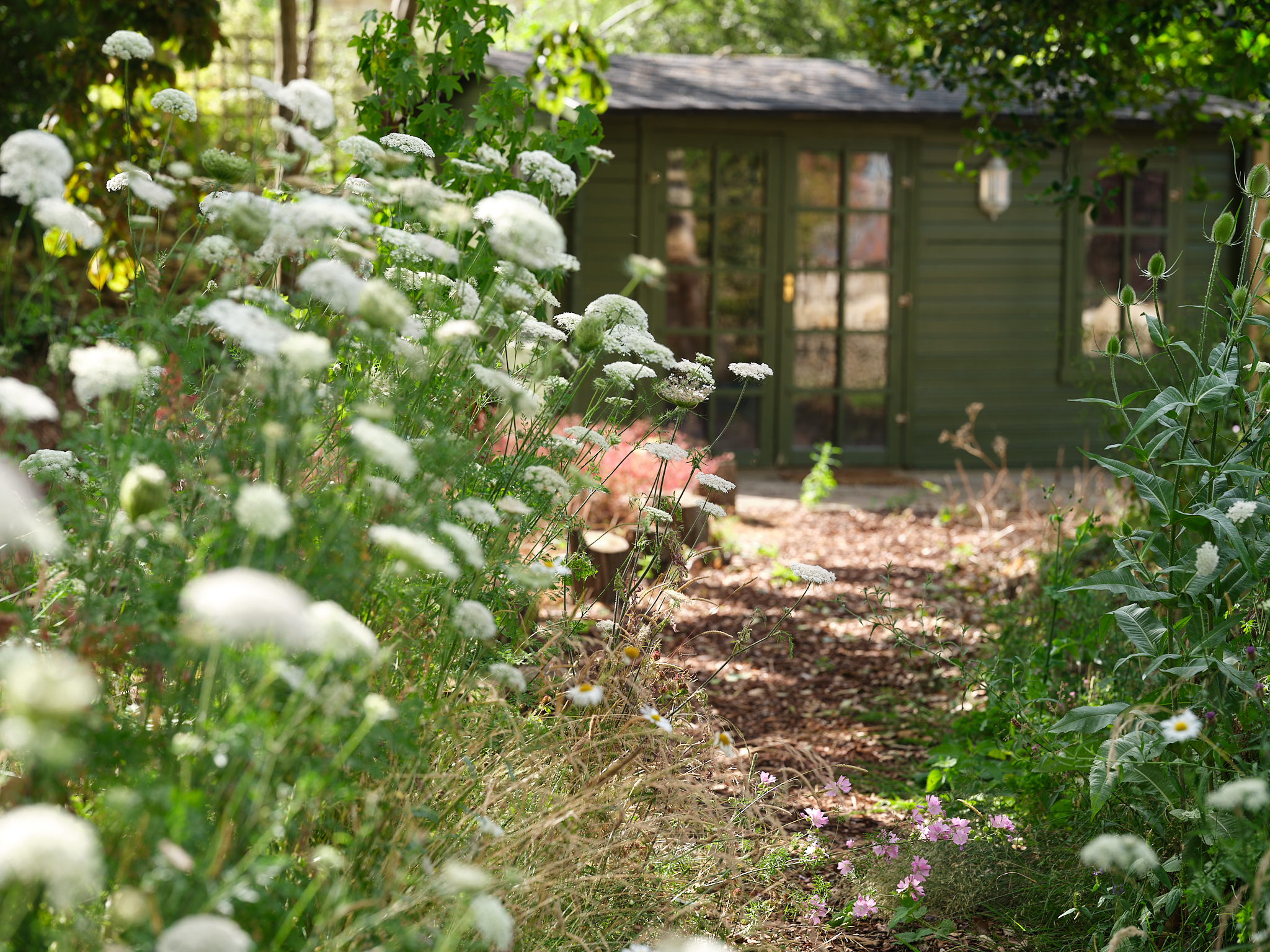 ``We chose Selby Landscapes to hardscape/landscape our garden, turning it from a boring expanse of lawn that stretched to a weedy woodland into two diverse and interesting outdoor areas. And the finished product entails a formal garden area composed of a newly created a pond and wetland; a rockery; a central pathway leading to a wall with oak arches and pergola. Beyond the pergola, Selby Landscapes created berms from the soil excavated from the pond that are now sown with wildflowers. They also reconstructed the dry stonewall boundary to the south of our property.

We particularly appreciated the fact that Sam listened to our vision and was able to translate it into reality, advising us on materials and coming up with a design that fit what we had had in mind. We also appreciated the fact that he was willing to amend the original design when we decided against a swimming pond and ``downgraded`` to a large ``wading`` pond instead.

We enjoyed our interactions with Sam and Dulcie who are both delightful and fun to work with.``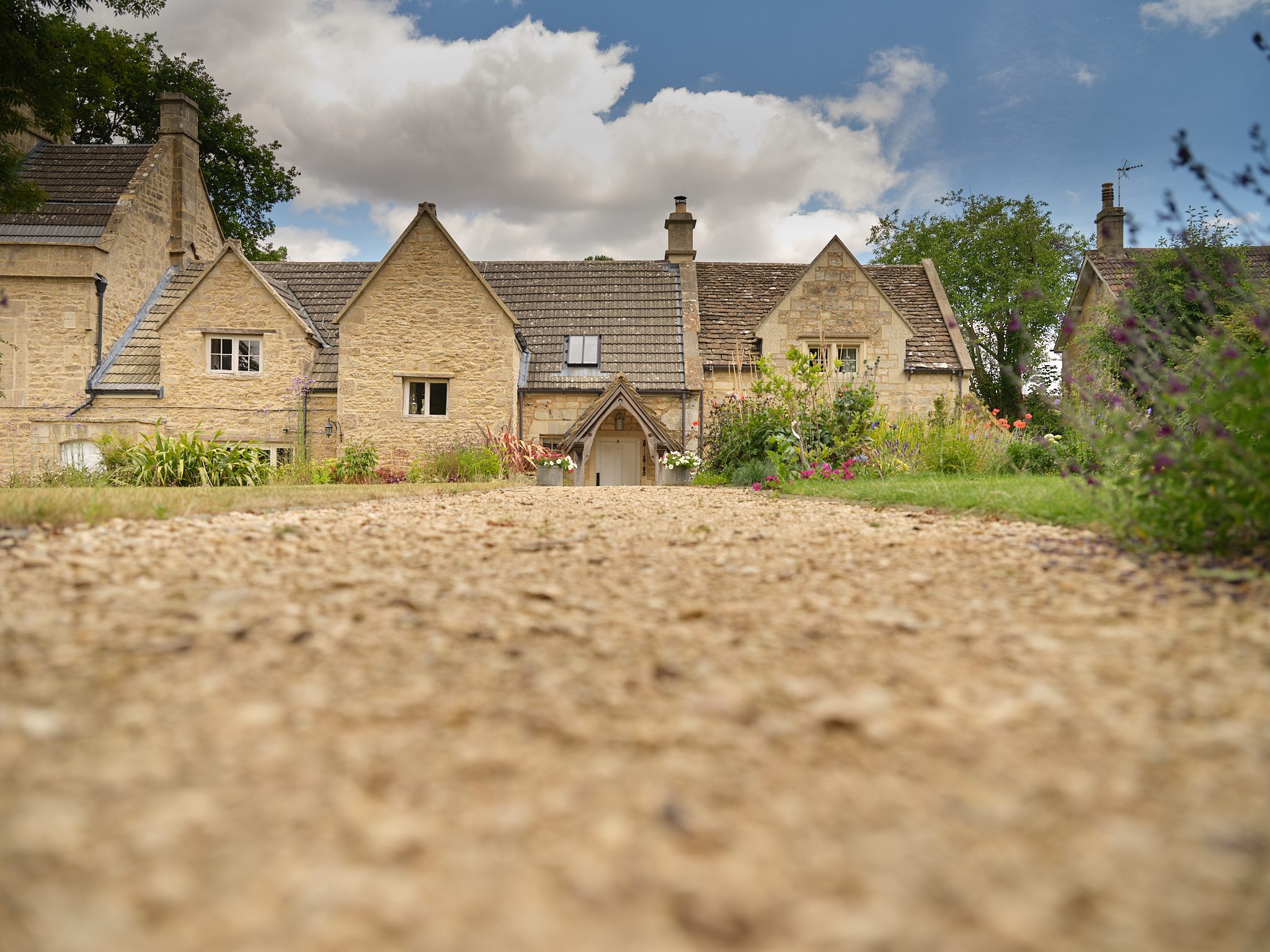 Need more inspiration?

Take a look at other projects we have recently undertaken,

Looking to start a project?
Click the button below to fill out our contact form and we will get back to you.

Get in touch