An Arts & Crafts garden created for a new rural property in Somerset.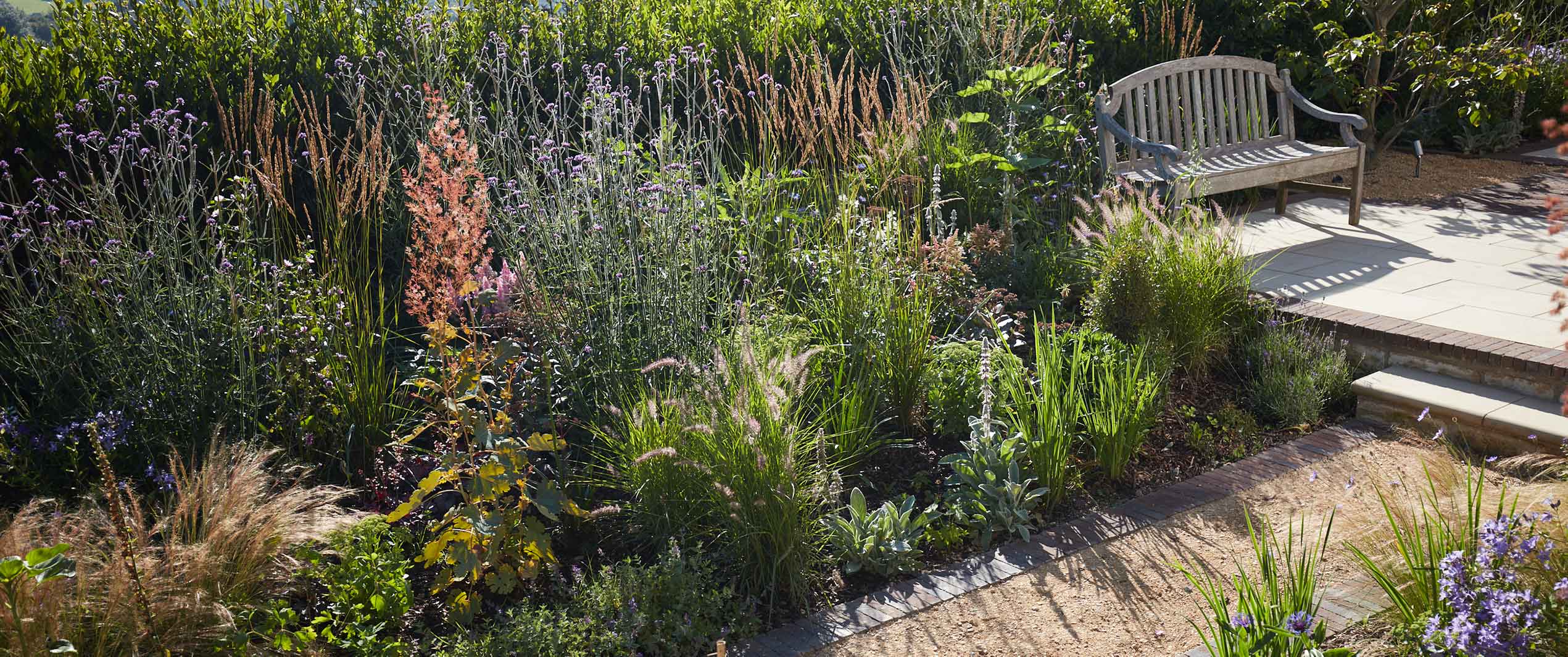 Arts & Crafts inspired characterful and handmade materials
The garden design at Courtney House was conceived to create a seamless transition between the house and its outdoor spaces.
A Somerset-based property developer commissioned us to build a garden for this brand-new country house. The architectural design of Courtney House takes many cues from the Arts & Crafts period with a mix of characterful and handcrafted materials used throughout. Decorative brickwork, stone mullions, asymmetrical roof lines and lime renders all add to the individuality of the property.
An Arts & Crafts influenced garden design was created by the talented multi-disciplinary designer Will Sandy to create a seamless transition between Courtney House and its outdoor spaces. Will brought us in to build, landscape and plant the garden to his design.
Designer:
Will Sandy | Design Studio
Project Cost:
£70,000 – £80,000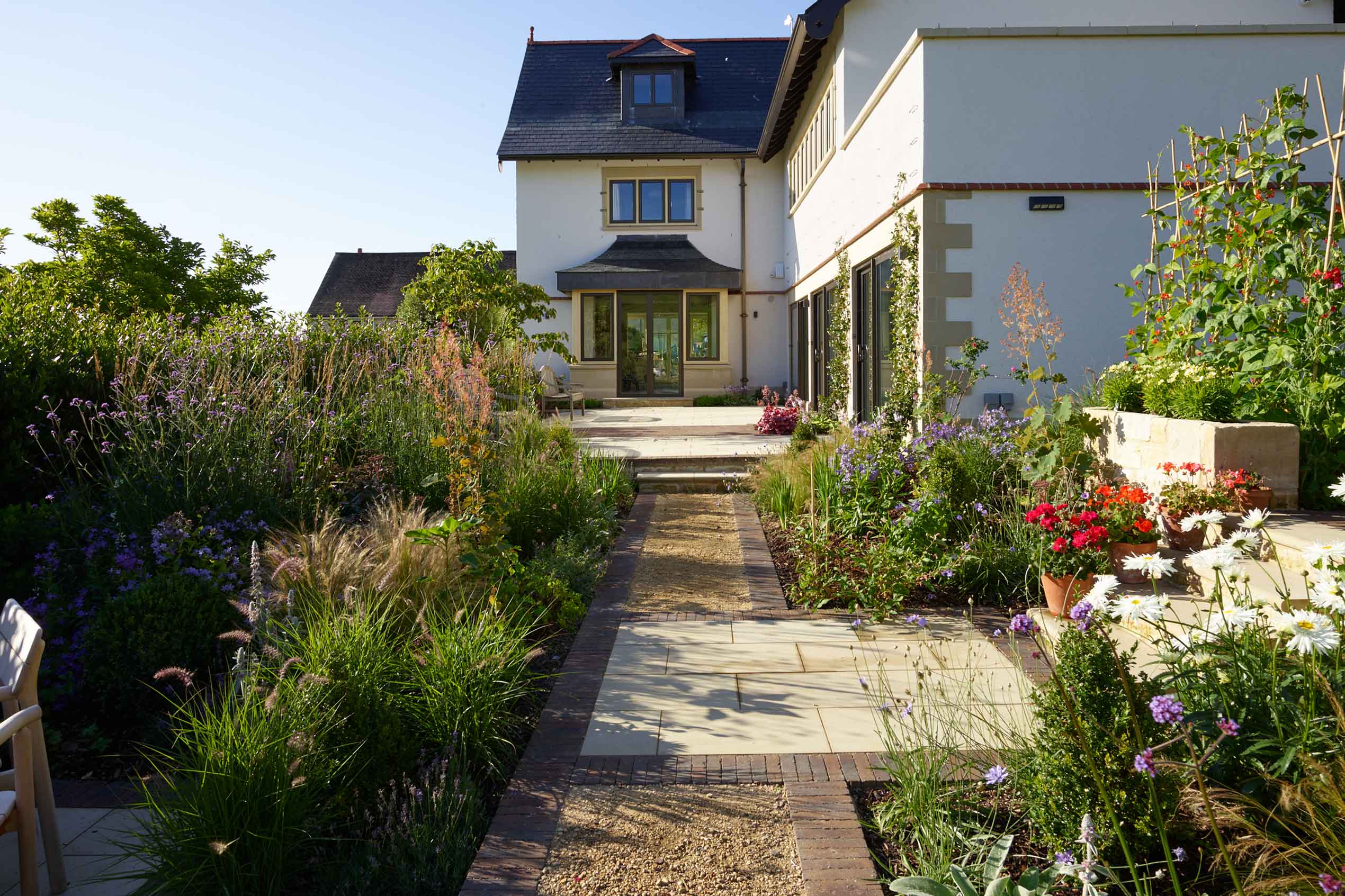 We carved a series of terraces out of the sloping hillside
Courtney House is situated on the top of a hill and the large gardens extend over a steep slope to the rear of the rural property.
The garden required considerable hard landscaping as it was designed to be spread over a succession of descending terraces. We carved the new terracing out of the hillsides creating a series of spaces or 'rooms' as per the Arts & Crafts style. Using timber and the same rough-hewn stone used for the terrace walling, we added a potting shed to match.
The terracing has turned a difficult gradient into a huge working garden. An informal seating area on the highest terrace at the back of the house gives an overview of the whole garden laid-out below.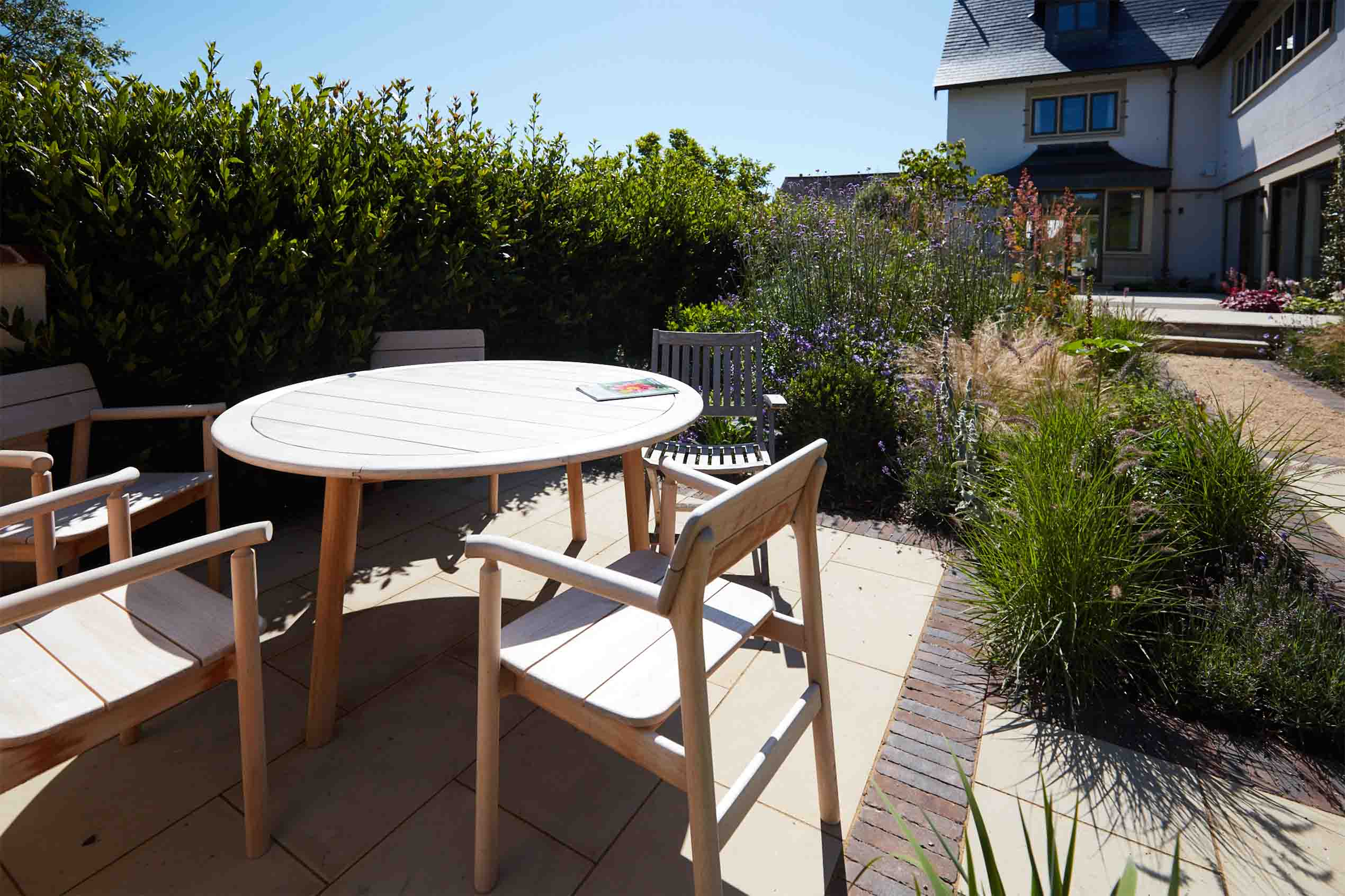 Repeating the colours and attractive details used on the property
The distinct areas or 'rooms' within the design have a relatively formal structure and are aligned with the house. We selected herringbone paviors in a warm red that match the brickwork on the house to introduce an element of informality. They draw the eye and gently lead visitors from space to space.
Our hard-landscaping team used Yorkstone coursed paving for each open terraced area. To create interest, each space was edged with or broken up by the paviors to create interest. We sourced all of the Yorkstone paving and Dutch clay paviors from CED stone.
Will Sandy designed each walkway and seating area to be edged with deep borders or stone framed beds. Ahead of planting we brought in and installed large quantities of top-quality topsoil and compost. As a result, the garden had a flourishing first season.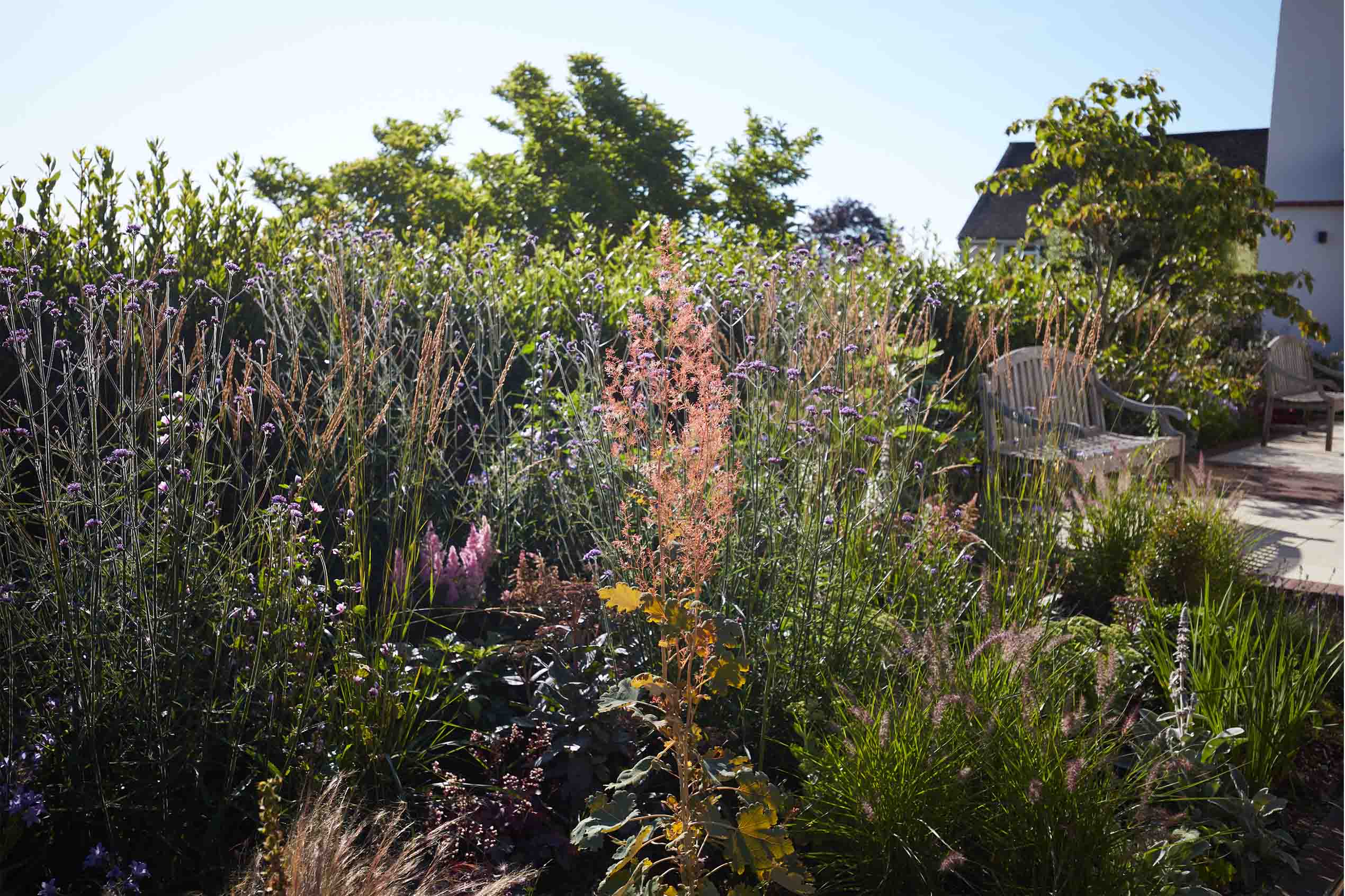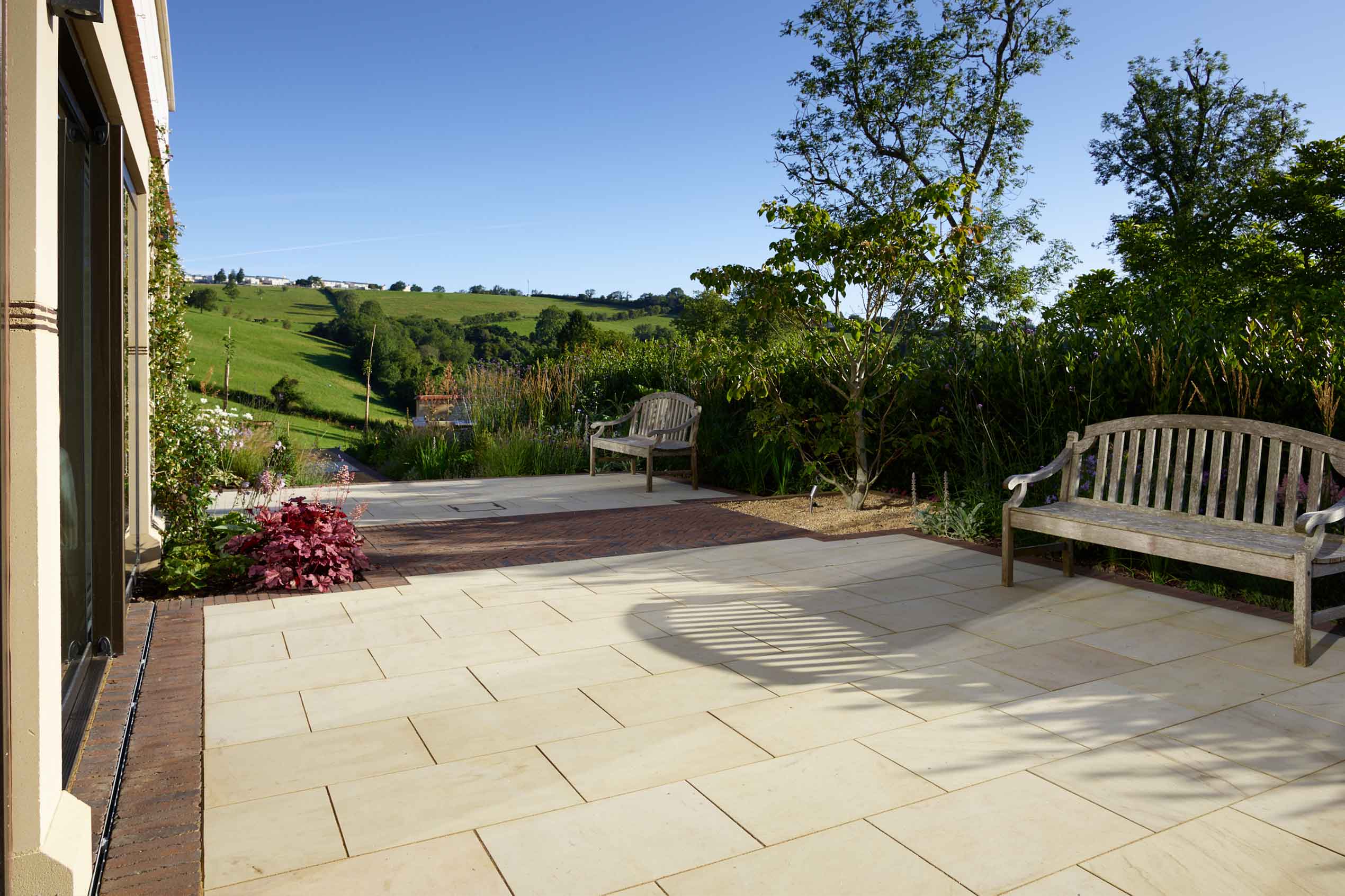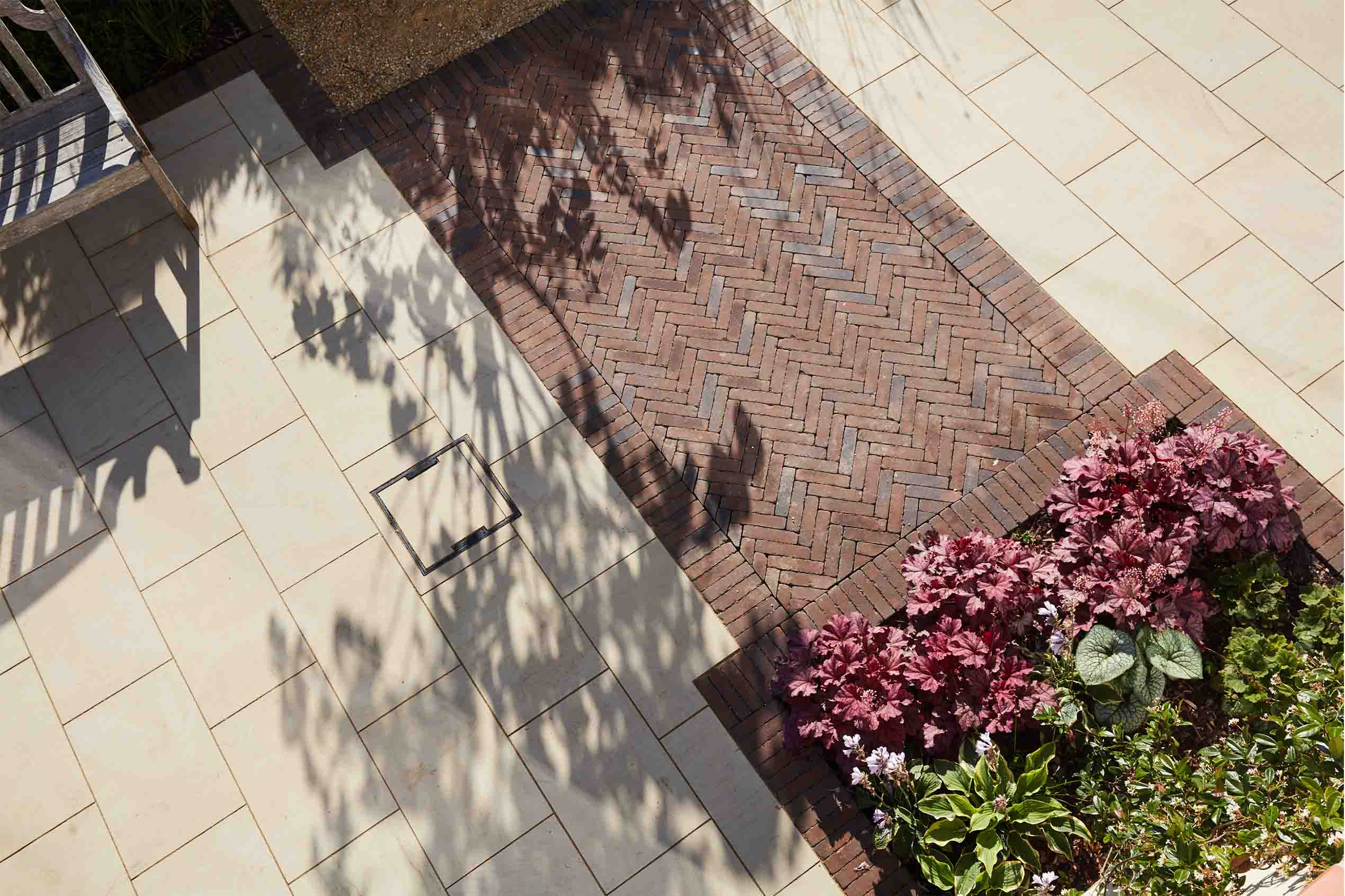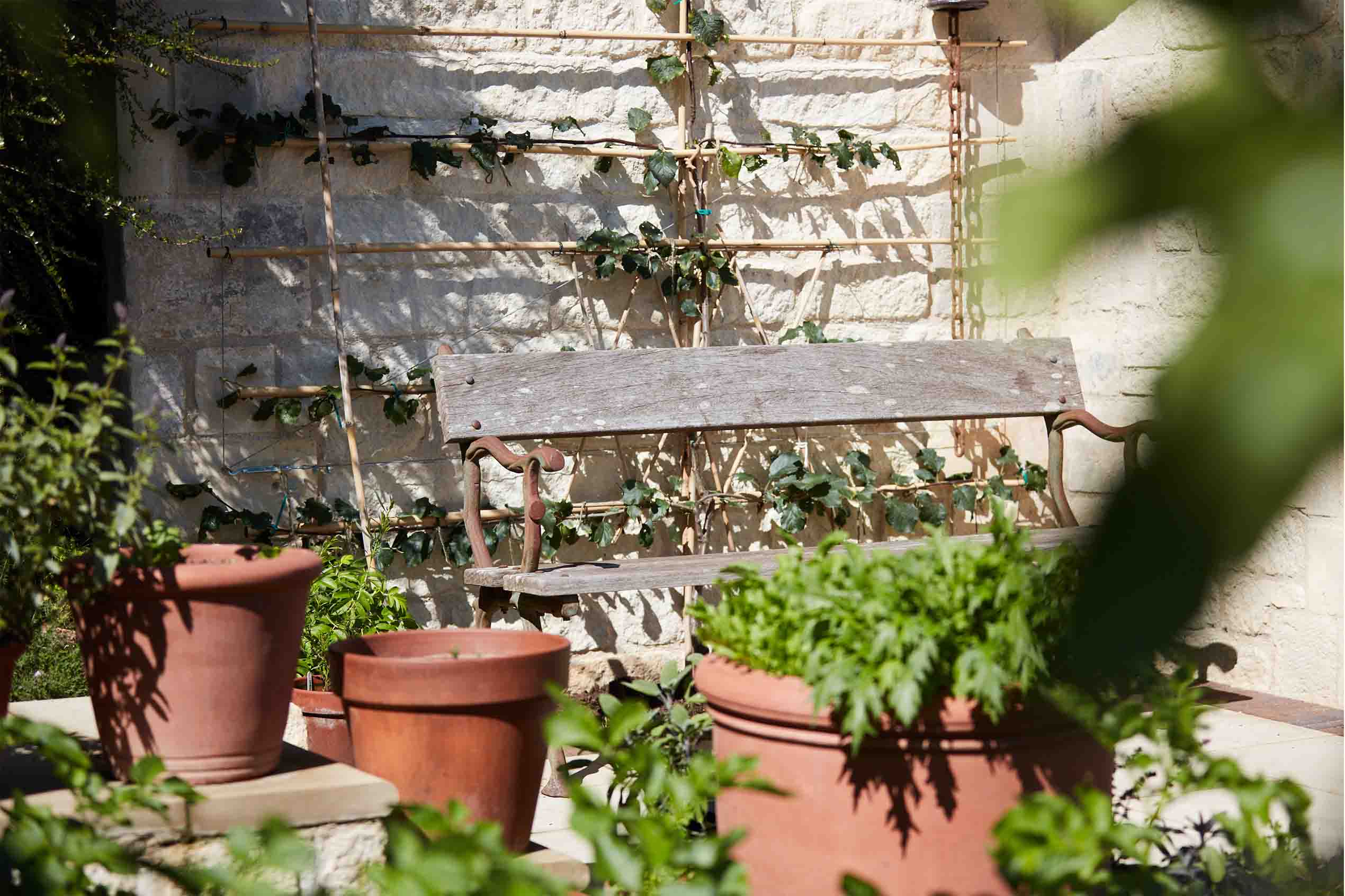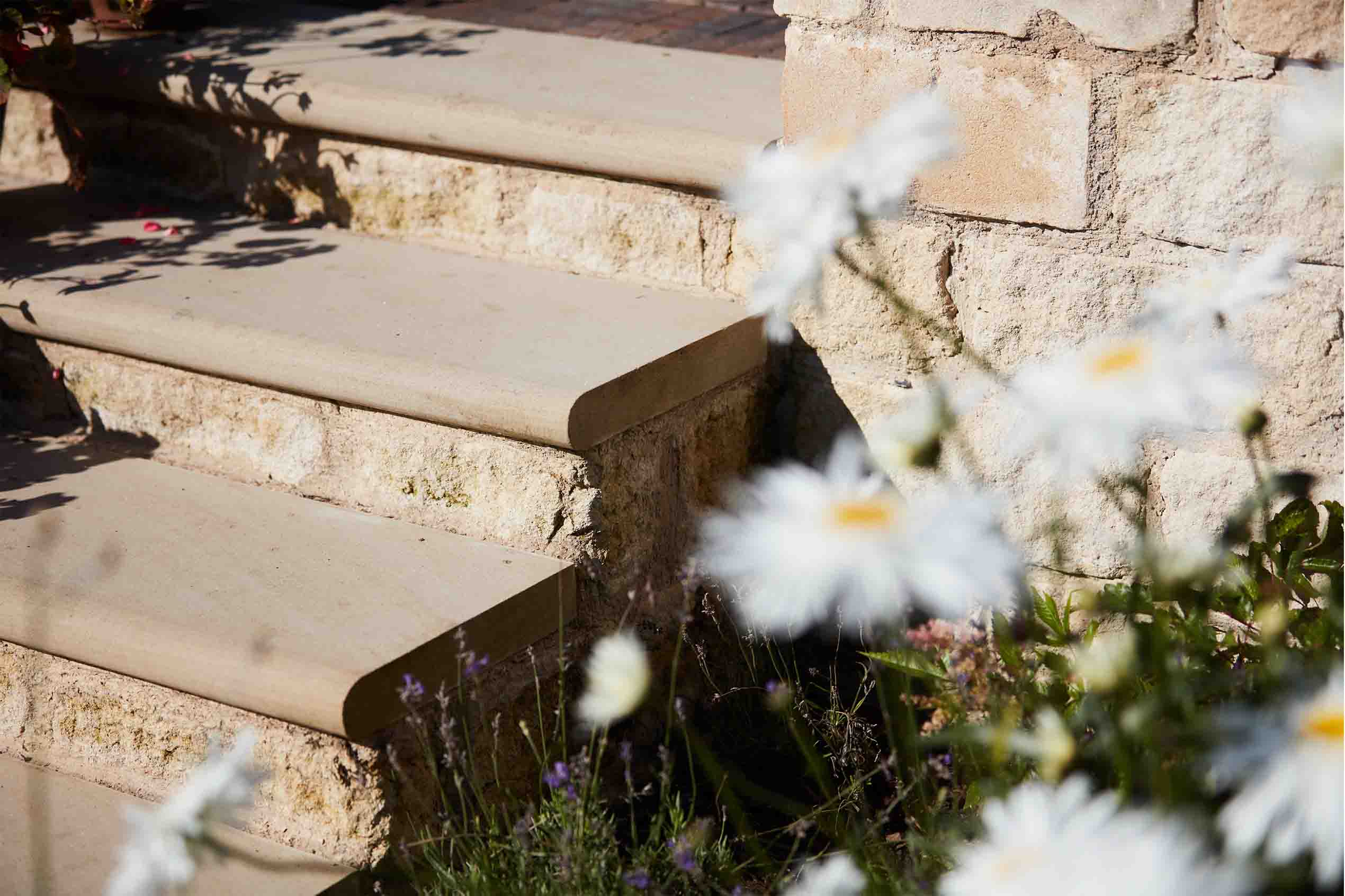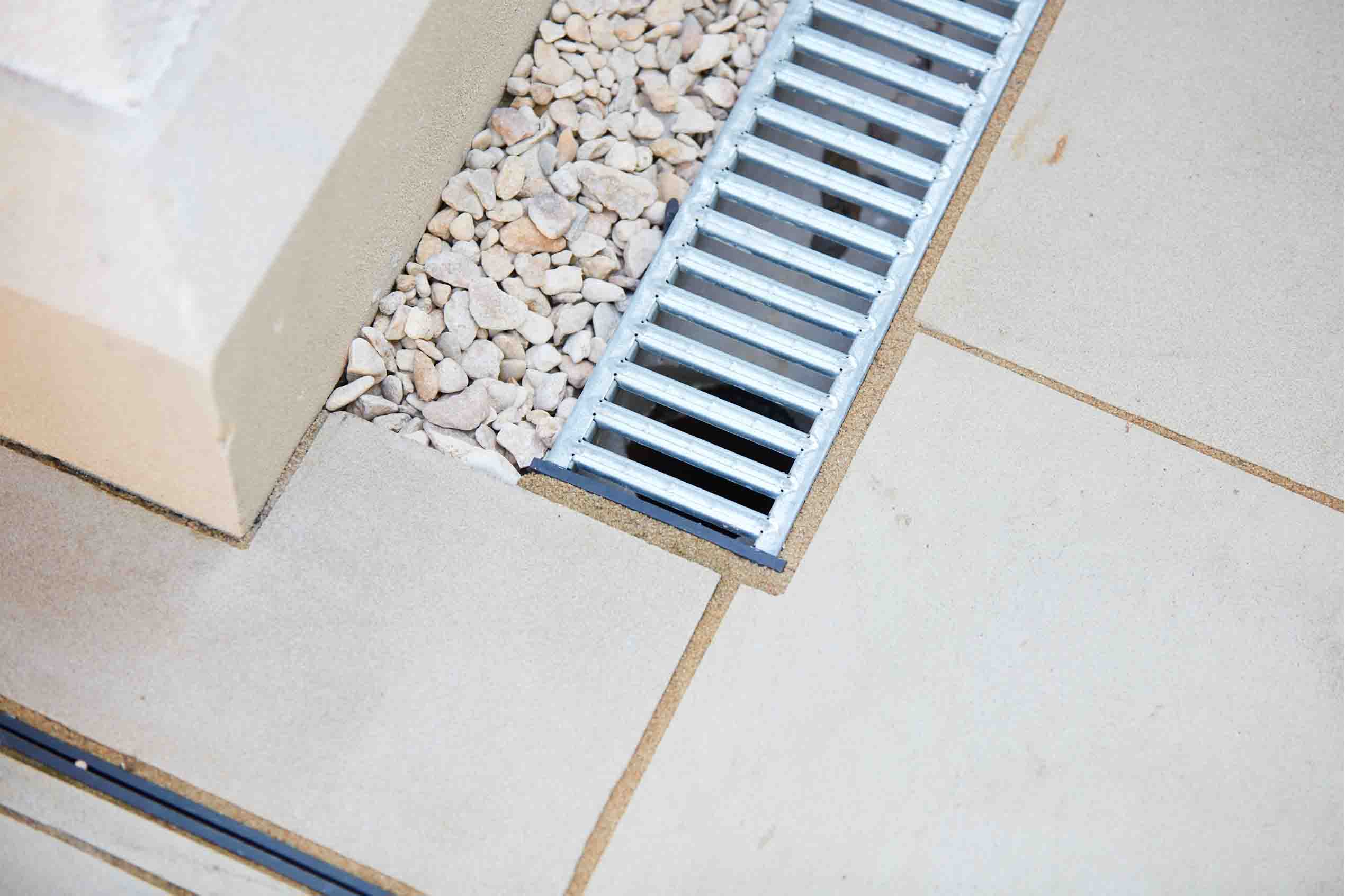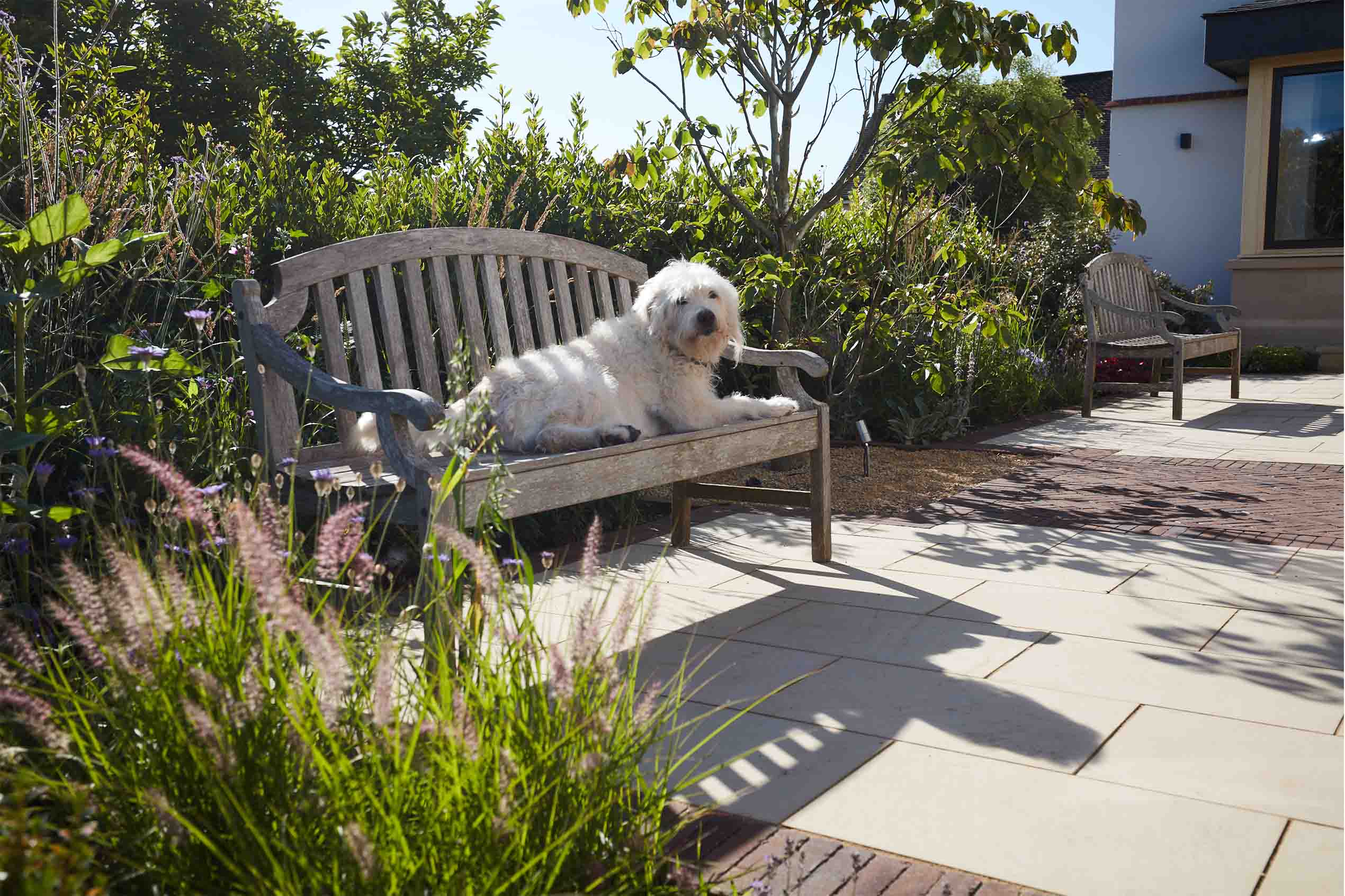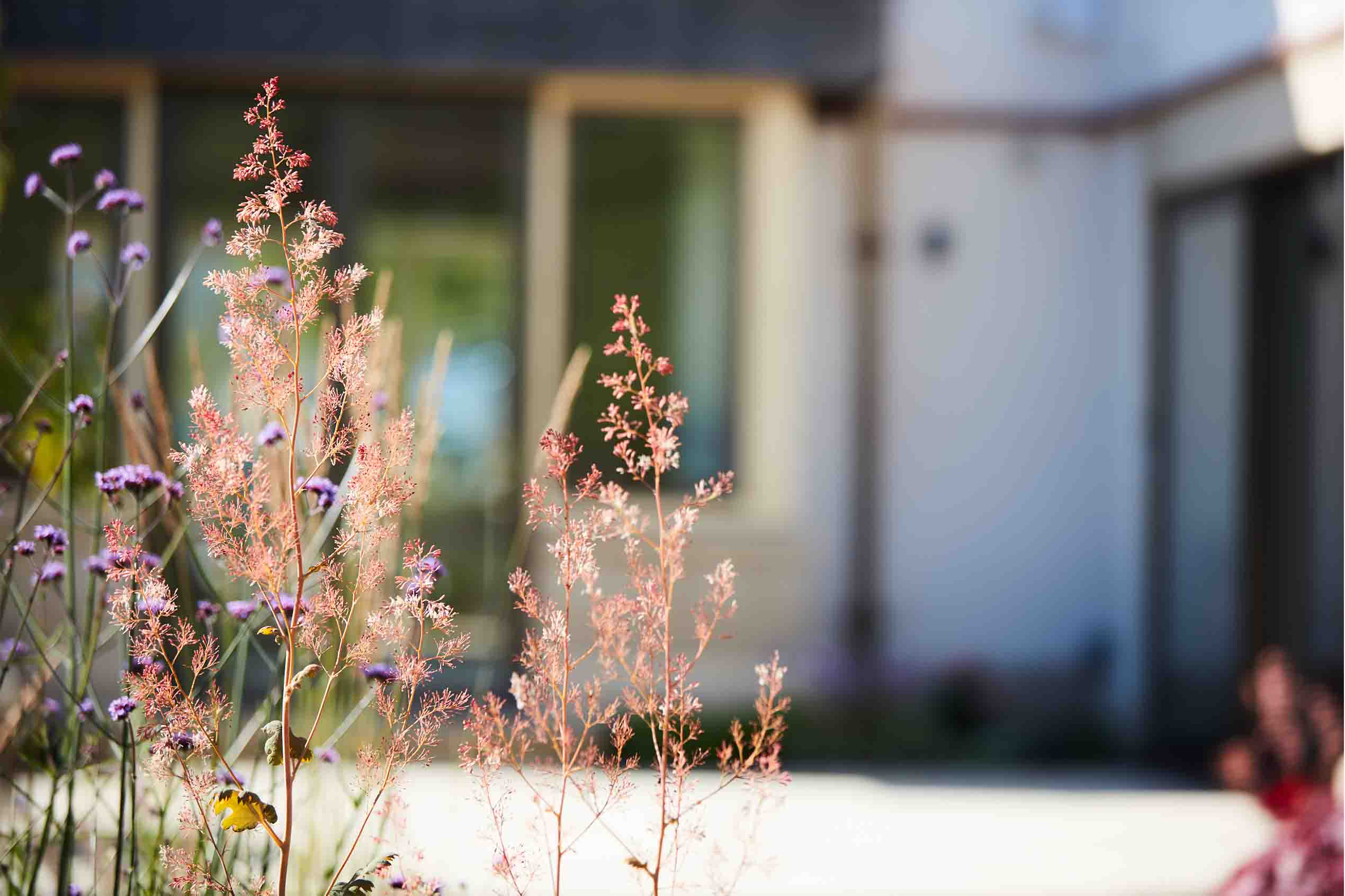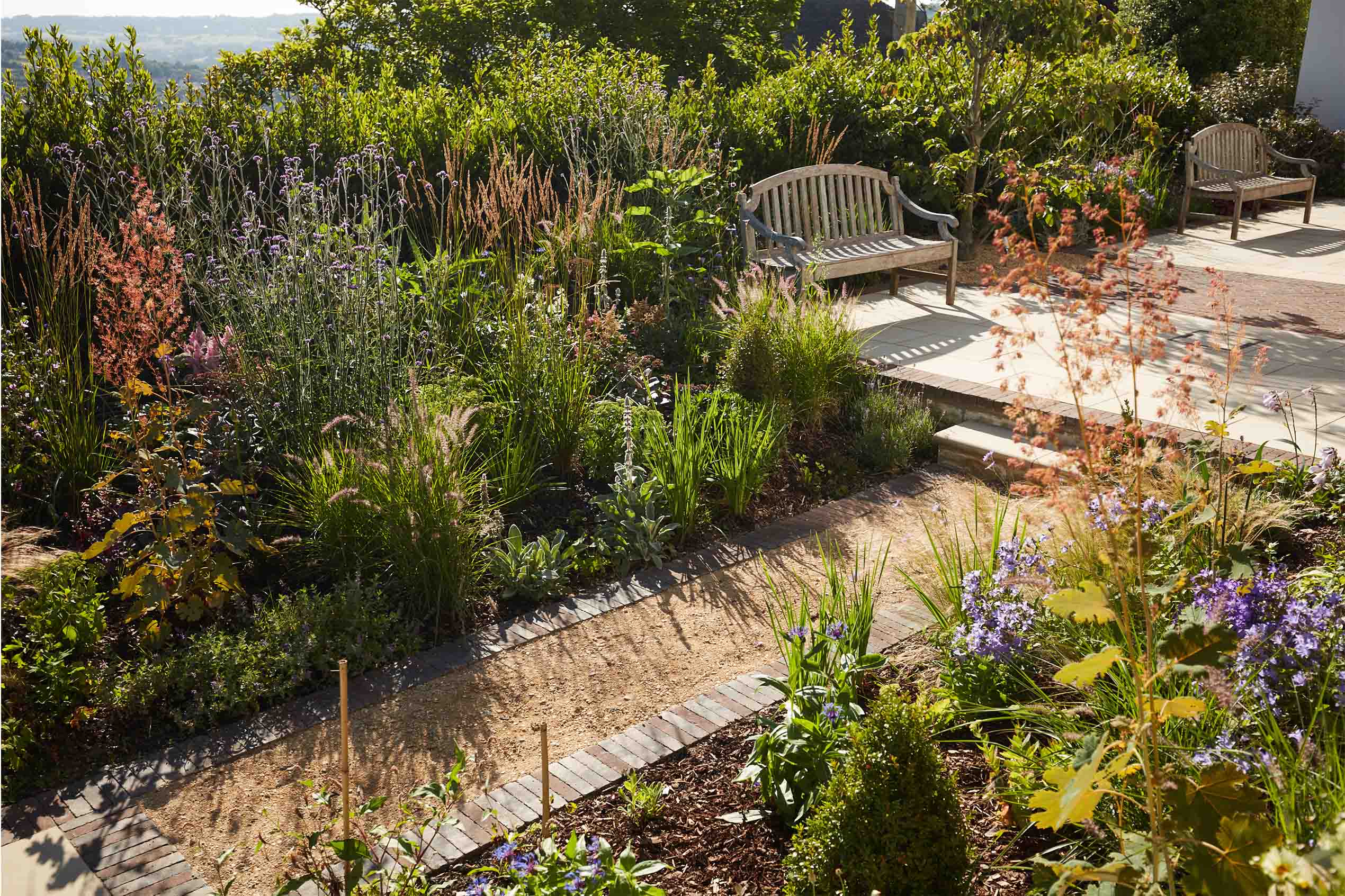 Will Sandy specified and sourced architectural and colourful plants to add colour and interest all year 'round. Our skilled soft-landscaping team planted everything to his designs including plants such as verbena, salvia, herbs, buxus, cosmos and heuchera.
The bold structure of this garden is timeless. In addition, with its deep borders full of interest and the rich blend of paving leading you through each space, this garden will continue to delight year after year.
Need more inspiration?

Have a look at our other projects.