Sloped garden with fantastic views over the city of Bath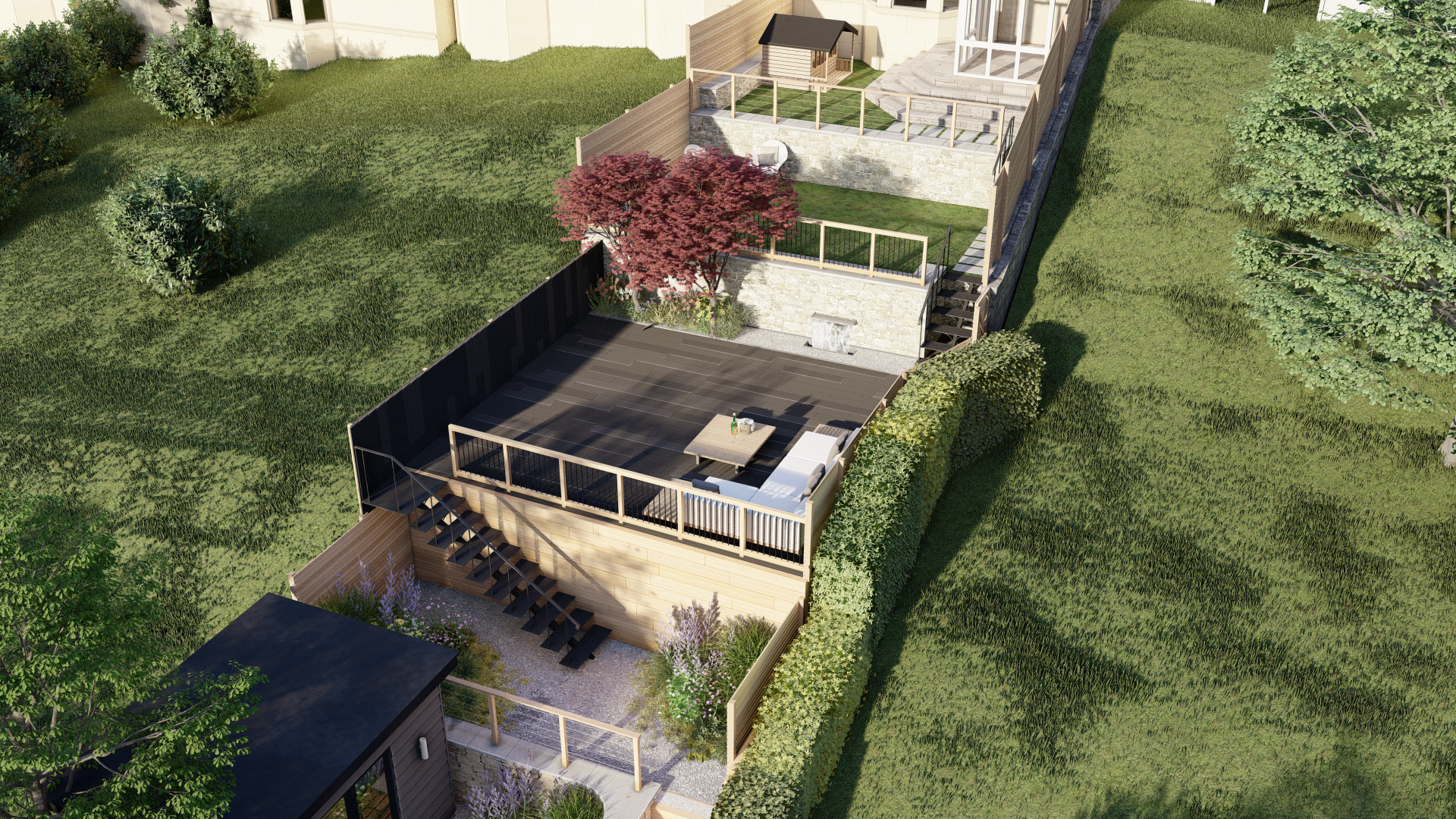 Utilise the views and making use of each terrace
This was an extremely steep rear garden with fantastic views over the city of Bath. The garden was divided into several terraces, each being a 'room' of a long set of steps, made up of different types of stonework. We noted that it would be advisable to keep the main structure of the garden to reduce larger costs such as structural wall works and groundworks. 
The clients wanted to modernise the material palette and create lawn spaces, outdoor office spaces, and a larger living space.
Designer:
Selby Landscapes
Project Cost:
£65,000 – £85,000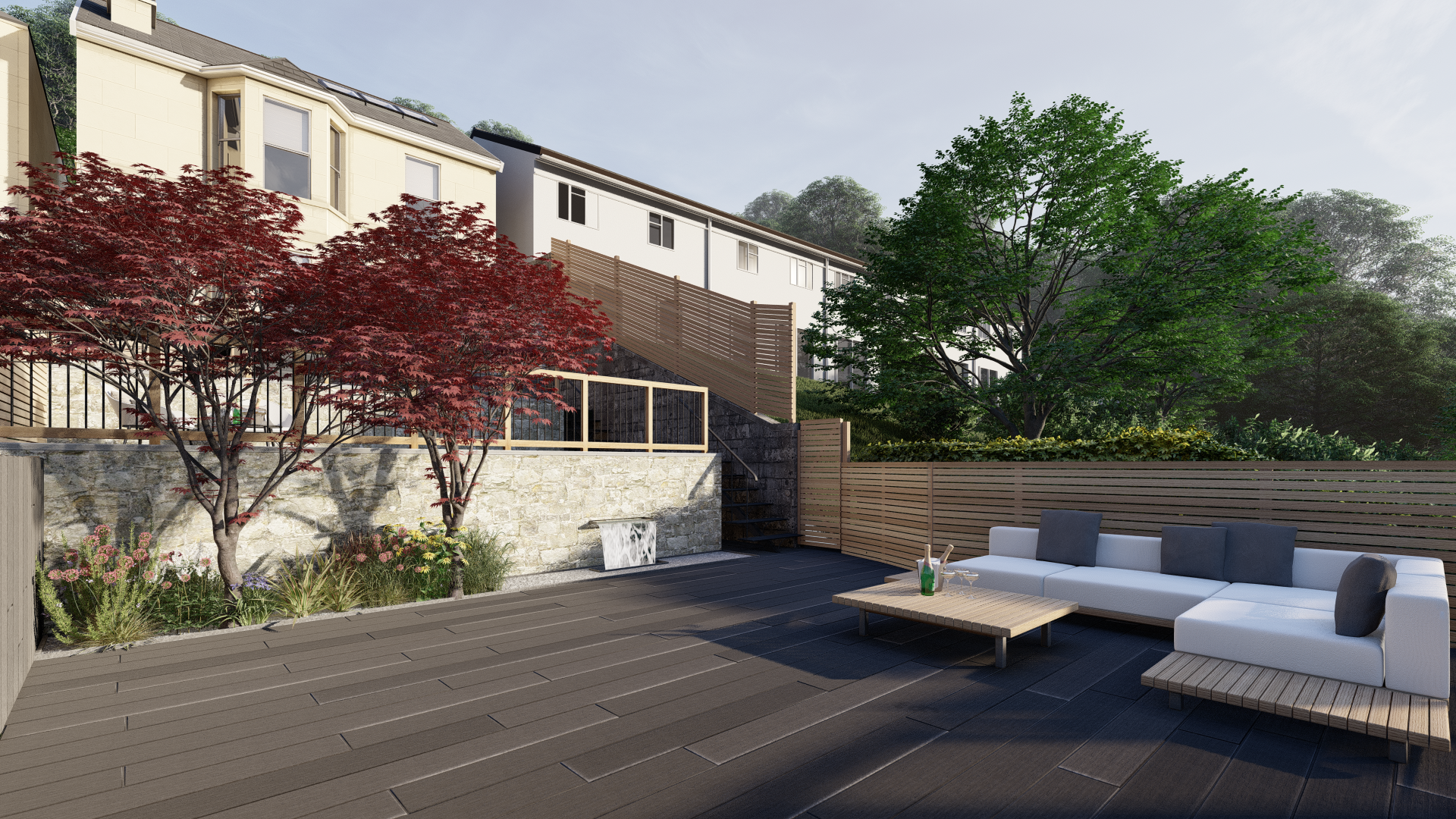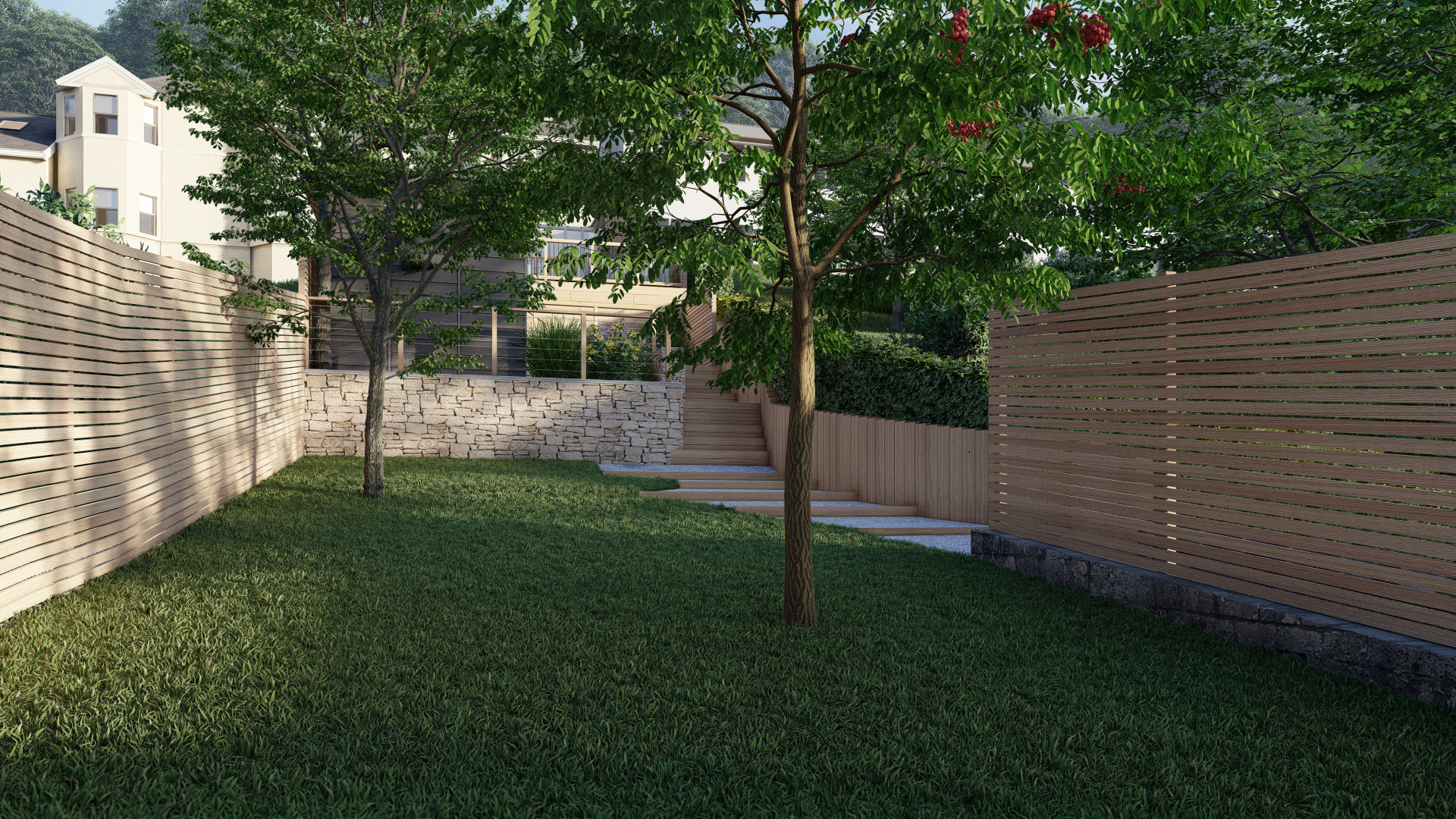 Based on this, the following design was proposed:
The top two tiers were to be made into lawn space, perhaps with mowing strips surrounding them. The smaller pond here was to be removed, and a new fence was to be created on the wall to match any boundary fencing design. A Venetian batten style was chosen as a contemporary aesthetic option.
The next tier was to become the 'cocktail deck', potentially using charred larch for the deck surfacing, and using a composite framework. The decking could be used in part to further hide waste materials. As a fascia for this large elevated space, we suggested gabion baskets or oak sleepers. A rockery/meadow could fill the space between this decking area and the following tier, perhaps retained with either gabion baskets or sleepers.
The next area was to be leveled and have an office building/shed installed, and the surface to be gravel, providing adequate space for planting and container gardening/raised veg beds, etc. The area would need retaining.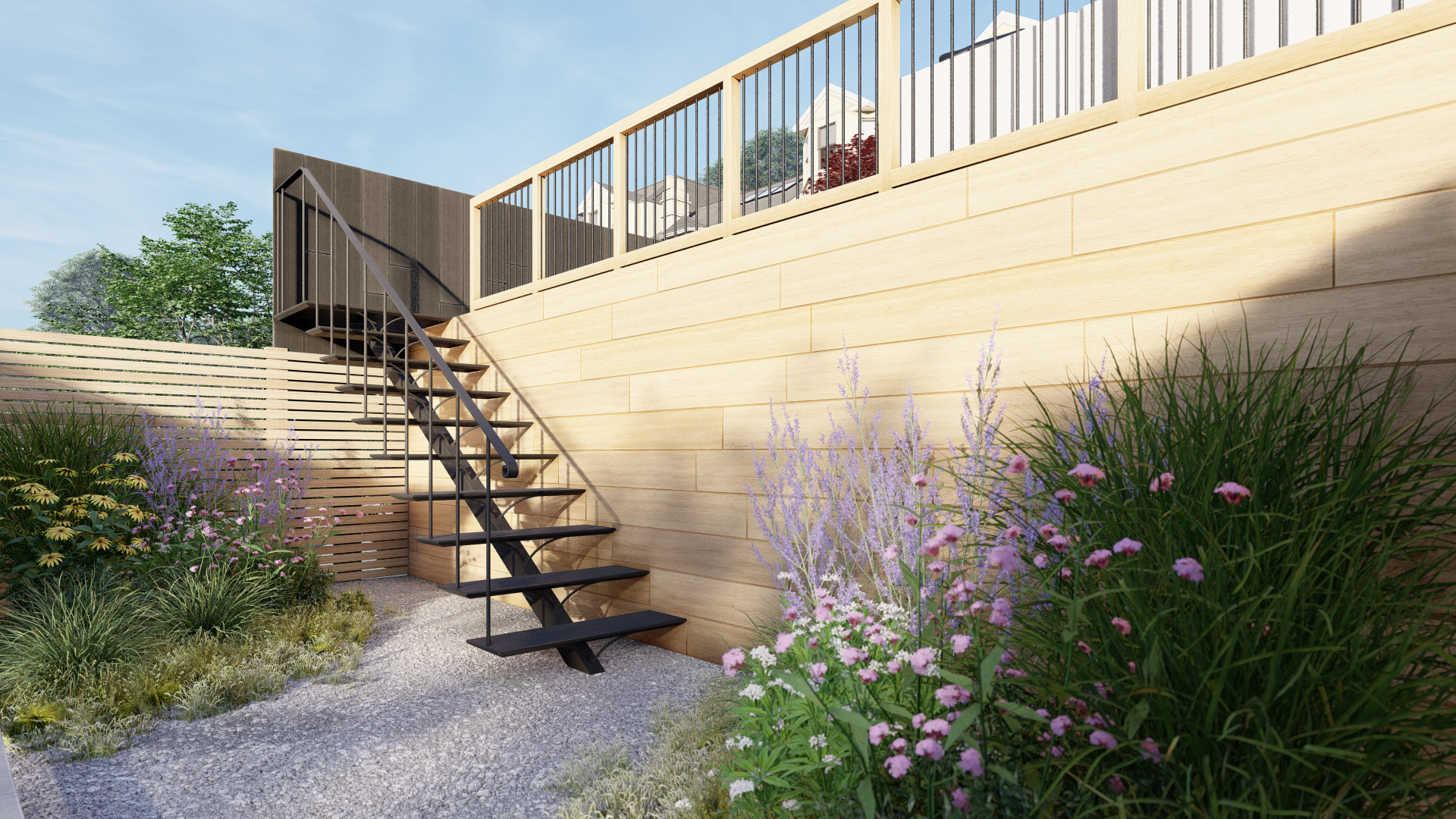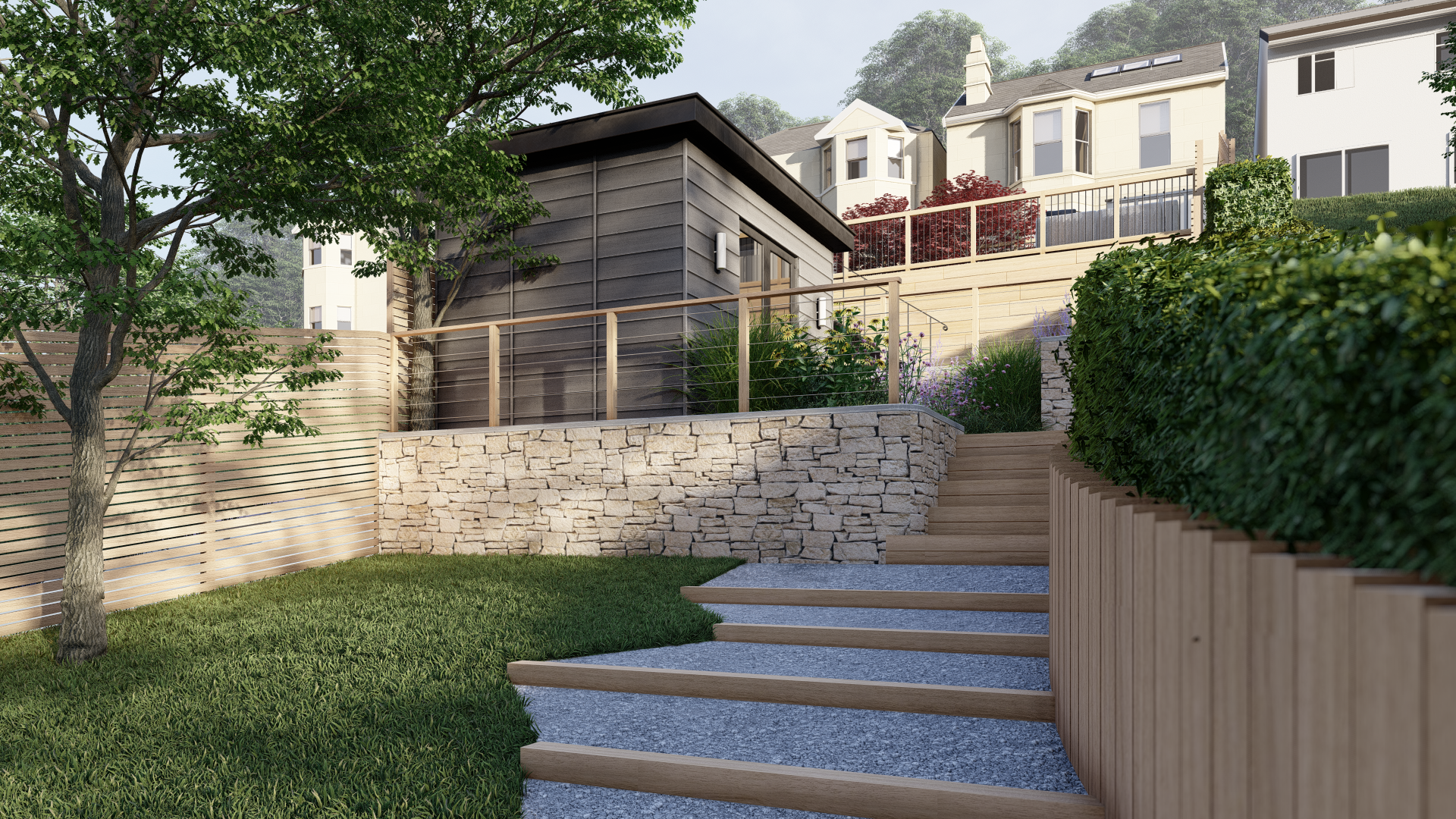 The final design of this project found a way to link these tiers effectively, linking to each other with similar elements used, while also providing distinctive areas and a 'journey' through the garden. 
The top two tiers created followed the plan, providing lawn spaces for the clients to enjoy as green surfacing with their children. Decking steps were used between these levels and down onto the large deck. 
The decking was an important part of the design, requiring planning permission and thought towards the neighbours gardens it would be raised above, and requiring high levels of attention to detail and levels. 
Below this, the ground surfaces were kept economical by utilising gravel, which was also a perfect fit for the clients and location through its permeability and being able to plant within this, naturalising any spaces as required.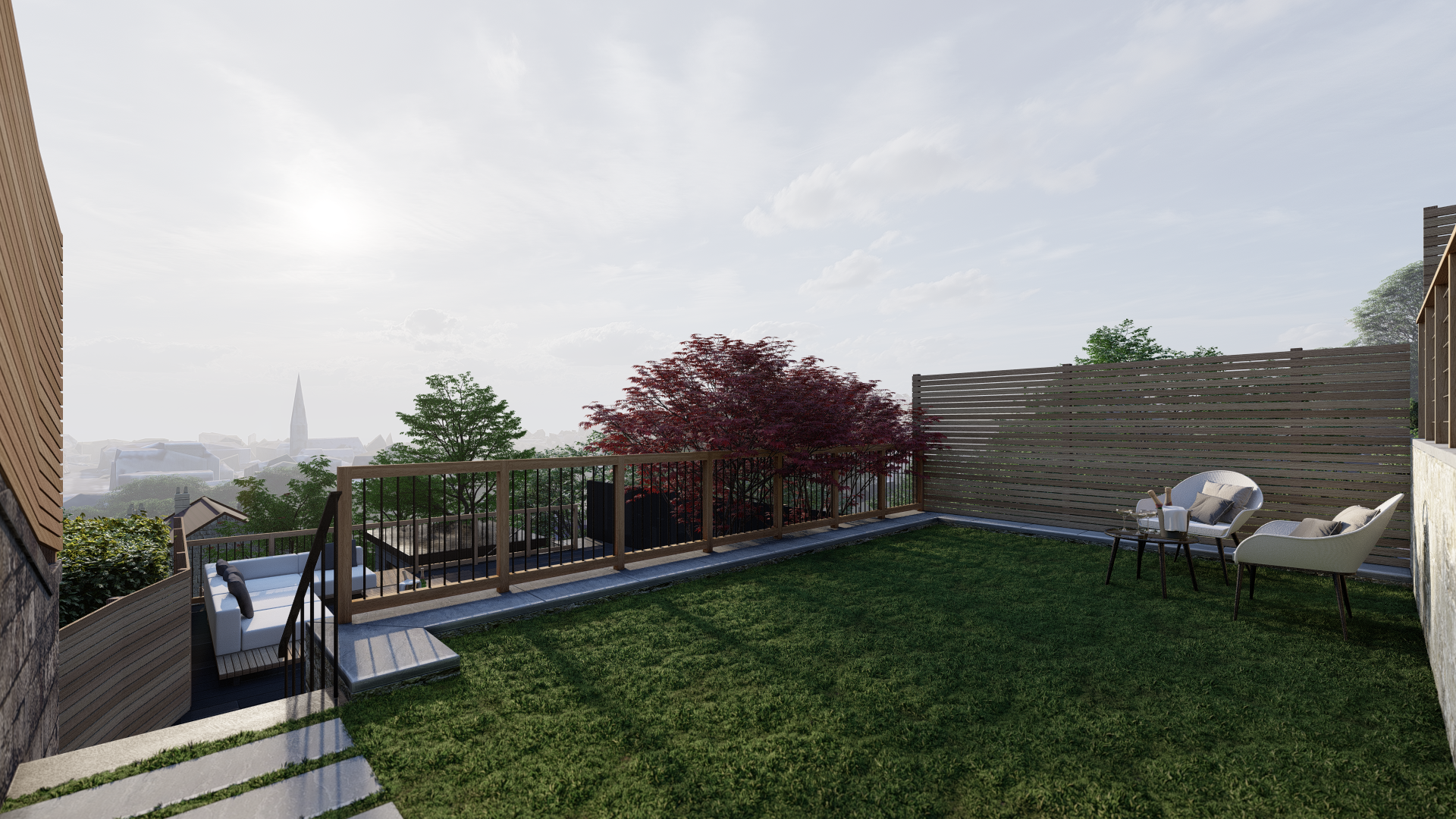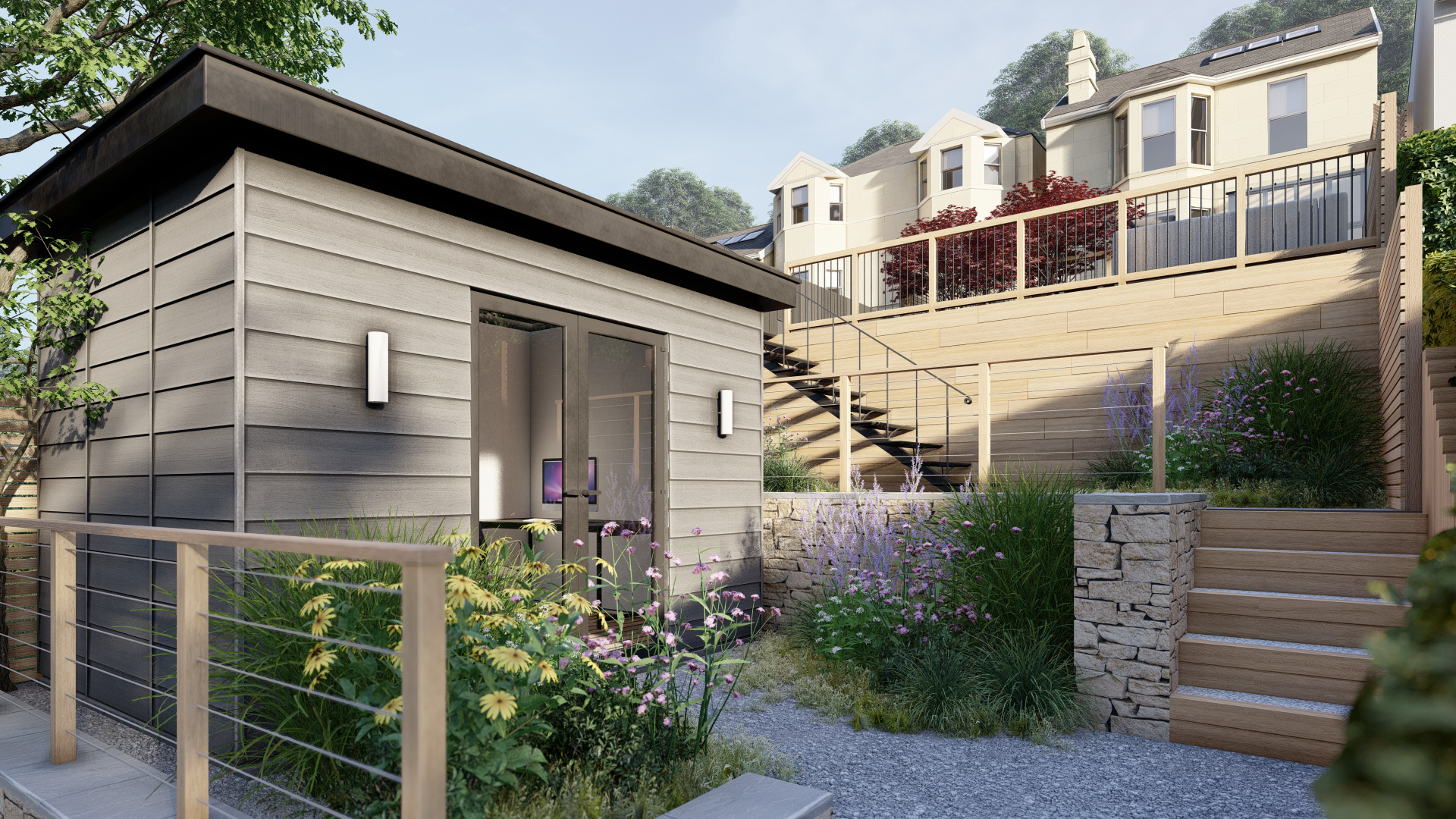 Oak sleepers were used throughout the garden in several ways, as a long curved feature vertical sleeper wall winding up the garden's boundary, as sleeper steps in different depths and widths, and as the retaining fascia wall of the large deck. 
The material choices within the garden design were very important to the clients, being such visual thinkers and aesthetically minded. Through our discussions with them, a material palette was decided upon that held similar tones, and blended modern styles, traditional natural and industrial materials, for example:
Oak sleepers

Burnt larch decking boards

Cedar balustrade posts with rebar steels

Natural Bath rubble walling and Kandla Grey coping stones

Clean stone grey gravel
Linked together all these elements provide a modern garden allowing naturalising and fitting to the materials of the traditional Bath stone buildings, and suiting the steeply tiered garden space.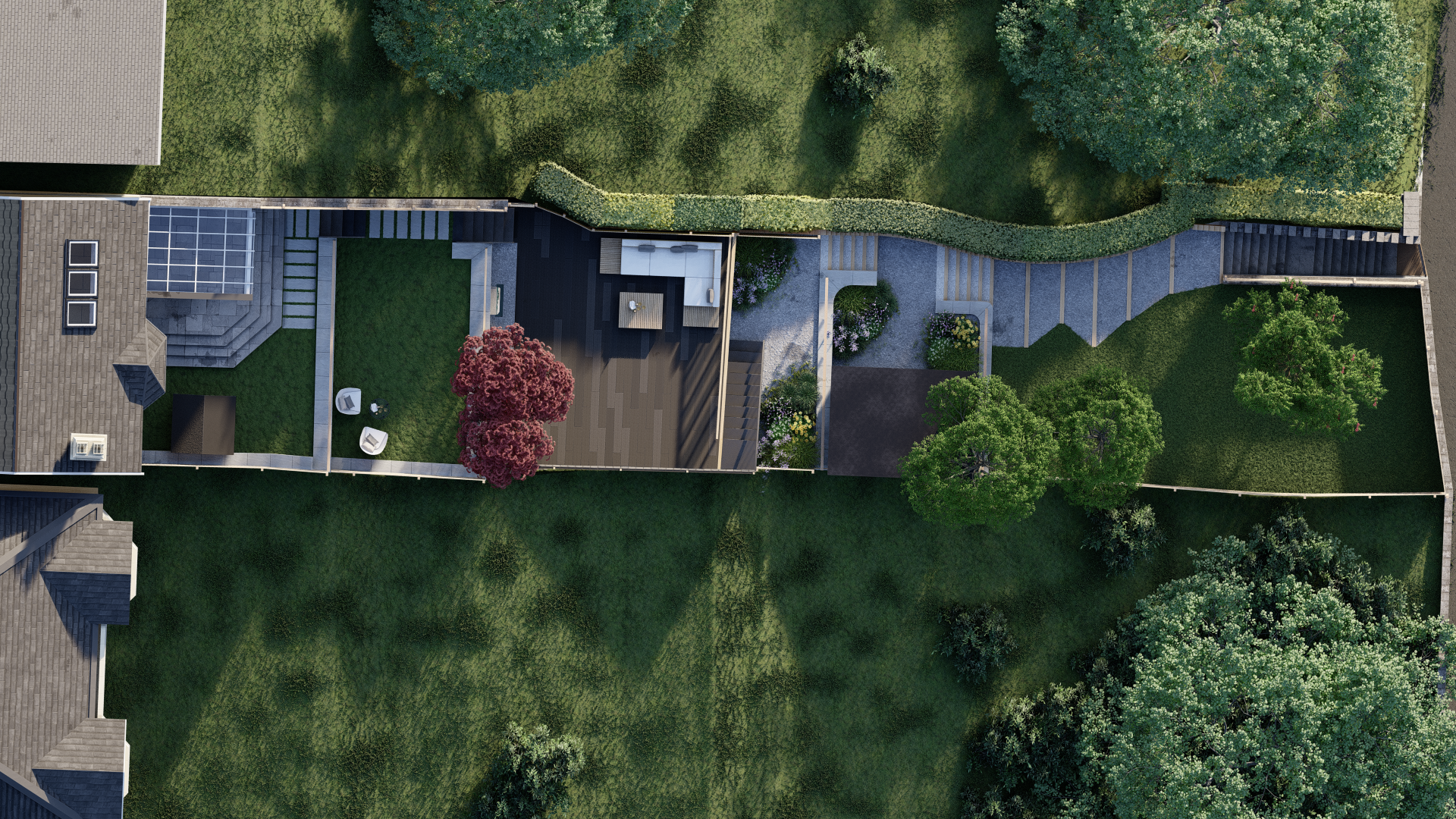 Need more inspiration?

Take a look at other projects we have recently undertaken,

Looking to start a project?
Click the button below to fill out our contact form and we will get back to you.

Get in touch